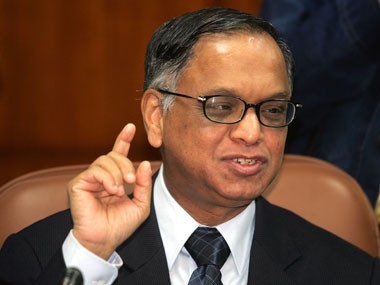 In a major development, software giant Infosys announced on Saturday that the company has appointed its founder and former chairman N R Narayana Murthy as executive chairman of the board and additional director with effect from 1 June.
Murthy, who founded Infosys in 1981 before retiring in 2011, has been appointed as the executive chairman for s term of five years following a string of disappointing results and loss of market share of the IT services firm over the last few months.
The shares of Infosys were pushed down to lowest close in a decade after its April forecast full-year sales growth missed analyst expectations by a margin of up to 50 percent.
Murthy will be replacing K V Kamath, who was appointed as the non-executive chairman after Murthy's retirement in 2011. Kamath will now step down and take up the position of Lead Independent Director with effect from 1 June.
"This calling was sudden, unexpected, and most unusual. But, then, Infosys is my middle child. Therefore, I have put aside my plans-in-progress and accepted this responsibility. I am grateful to Mr. K V Kamath-the chairman, the board, and every Infoscion for giving me this opportunity. I intend to do my best to add value to the Company in this challenging situation," Narayana Murthy said in a statement.
"The Board will take up in its meeting on 15 June 2013, the resolutions for convening an extraordinary general meeting within the requisite period, in order to seek approval from the shareholders for appointing him as the executive chairman and whole-time director for a period of five years commencing on 1 June 2013," Infosys said in a statement.
Murthy will draw a token compensation of ₹1 per year during his five-year term.
The company also said that S Gopalakrishnan would be designated as executive vice-chairman. He would be responsible for "client relationship and broader industry issues." S D Shibulal, who co-founded Infosys, would remain as the managing director and chief executive officer. They requested the board that they would also draw a compensation of ₹1 per year.
The re-shuffle also marks the entry of Rohan Murthy, son of Narayana Murthy. Rohan has been given a role in Infosys for the first time. He would serve as executive assistant to his father. Rohan is a junior fellow in the society of fellows at Harvard University. He has done his PhD. in computer science from Harvard University and holds a bachelor's degree in computer science from Cornell University. Moreover, Rohan has held fellowships at MIT, Caltech, and Microsoft Research.
Rohan will also serve as the executive assistant for a period of five years. He is also said to have requested the company board to give him a token compensation of ₹1 per year.
Shares in Infosys closed 3 percent higher on Friday, ahead of the announcement of Murthy's return to the company. The stock is up 4 percent so far in 2013, compared to a nearly 7 percent increase in the sectoral index.
(With Inputs from Reuters)