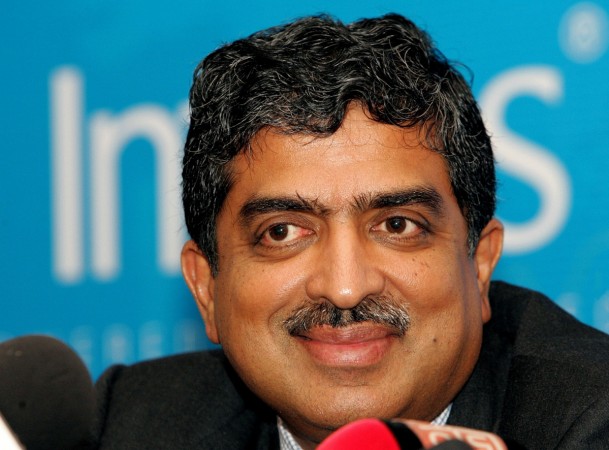 India's second-largest software outsourcing company will start posting good results in the coming financial year and reclaim its glorious days, co-founder and non-executive chairman Nandan Nilekani has said.
The Bengaluru-based IT major will cash in on disruptive technologies like artificial intelligence (AI) and Internet of Things (IoT), Nilekani told Bloomberg. These cutting-edge technologies will shape up Infosys and make it more stronger, he added.
"The world and its businesses are in the midst of the biggest re-imagining and transformation I've seen in the last 40 years, offering us a huge opportunity. Our goal is to make sure we are positioned to deliver, so that we'll again be in the right place at the right time. We just have to do it," Nilekani said.
Many market participants believe that truing around the software outsourcer won't be easy as clashes between the co-founders and the board became public many times in the past one year. The unceremonious exit of former CEO Vishal Sikka has also cast a negative shroud on the company's image.
Earlier last week, the IT firm had appointed Salil S Parekh as the CEO. Parekh currently holds a top executive position in France-based IT company Capgemini.
After Sikka's exist, Nilekani was appointed as the non-executive chairman to rebuild Infosys and guide the company's board to take the company move forward.
"There's a large opportunity out there helping global clients re-imagine their business, its opportunity of a new kind. A lot of things we do are subject to commoditization and automation. We need to make our new businesses grow quickly with bigger margins – we need to manage both these things well," Nilekani told Bloomberg.
Parekh is scheduled to join the company from January 2 and Nilekani expects everyone on the board to be "fully aligned" with the new strategy before the start of next fiscal.
"We now have strategy that everybody buys in to, a new CEO and the focus is back on business. Infosys is on the path to a really good performance in the coming financial year," said Nilekani.