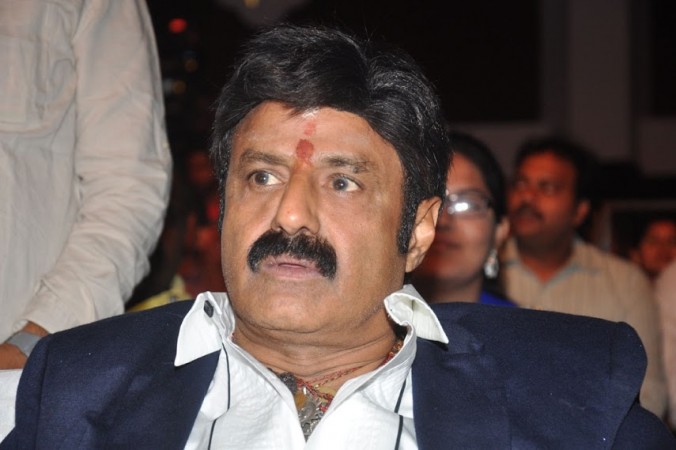 Actor-turned-politician Nandamuri Balakrishna has apologised for a controversial remark on heroines at the March 4 audio launch of the Telugu movie "Savitri".
Balakrishna said his remark was not intended to hurt anyone. "My comments, made during the audio release of Telugu movie Savitri, were not intentional. They were not intended towards anybody. If anybody got annoyed by my remarks, I apologise to them, [sic]" The New Indian Express quoted Balakrishna as saying.
The MLA from the Hindupur constituency said he holds women in high regard and has learnt to do so from his late father. "I have the utmost respect for women. I treat any woman as my own sister. It is a tradition I acquired from my father NTR. I never show disrespect to the members of the fairer sex," Balakrishna added.
Balakrishna was the chief guest at the audio release function of "Savitri", starring Nara Rohit, nephew of Andhra Pradesh Chief Minister N Chandrababu Naidu. "If I play eve-teasing roles, and just follow girls, my fans will not accept. Either a kiss should be given or they should be made pregnant. That's all. We have to commit ourselves," Balayya had reportedly said while addressing the gathering at the event.
While some male celebs giggled at his remark, the women present on the stage were reportedly embarrassed. His comment sparked a controversy in the state. On March 8, a section of lawyers filed a police complaint against Balakrishna for his alleged "vulgar" comments.
"We have received a complaint against Nandamuri Balakrishna alleging he made some vulgar comments against women at an audio release function for a movie held three days ago. We are seeking legal opinion on the issue," Saroornagar police inspector S Lingaiah told PTI.
YSR Congress MLA RK Roja had demanded an apology from both Balakrishna and Chandrababu Naidu over the remark. "While the top leadership itself has been pursuing anti-woman policies, it percolates down the line resulting in the harassment of women at various levels and such government should apologise to the women community," RK Roja told reporters.