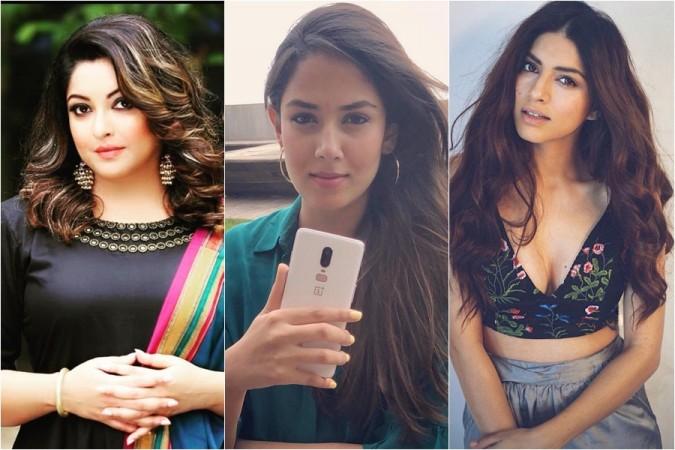 Tanushree Dutta's account of her 2008 alleged sexual harassment at the hands of Nana Patekar has garnered her a tremendous support from the film fraternity. And Shahid Kapoor's wife Mira Rajput has now said that she, too, supports the actress.
The debate has also prompted Khamoshiyan actress Sapna Pabbi to come out and share her own experiences in Bollywood and how she could relate to Tanushree's ordeal.
In an Instagram post, Sapna asked a pertinent question - Where were all the women when this was happening? Sharing her own account of what she had experienced working with industry people, the actress said that she felt heartbroken whenever her women peers failed to take a stand against men's sexist behaviour towards her.
She recalled how a woman laughed at a man's sexist attitude towards her when she turned to her for comfort and support. "I was judged for complaining about a bra by a man, however it was a fellow sister; the one who I reached out to in confidence for support that stabbed me in the back," Sapna said.
Read her full-unedited Instagram post here:
"WOMEN. As an actress I often experience what Tanushree has experienced on almost a daily basis. My voice silenced my words manipulated, twisted and used for the wrong reasons. I have had the opportunity to work with some incredibly talented females in all kinds of respective roles within the business. Sadly, I have been disappointed with the way some of these women (and others within my working environment) have remained absent during such traumatic and difficult situations and were merely witnessing if not taking advantage themselves.

We are pointing fingers towards men and not in anyway am I trying to undermine the part they've played, but I have been heartbroken by the lack of women coming and holding my hand whenever I've felt the most vulnerable under the power of a mans sexist behaviour towards me. If we do not support our girls then how can we expect our male colleagues to do so? I've witnessed women from several professional industries (I've worked in a few) bully other women in order to secure they're own position and accelerate their image in the eyes of their male peers. What happens when he starts to bully her? Do I too become oblivious, turn a blind eye and watch her suffer because she's a woman? I do see more women bullying women than women bullying men - have we succumb to shitting on each other now girls, to get ahead?

I can recall several instances where I've turned to another woman on a shooting set looking for comfort and support - only to find that she is standing behind the man laughing along with him and his sexism towards me. I remember one in particular where I had to wear a bikini for a song and dance sequence. During my trials I had informed my stylist (female) that jumping around in this underwired bikini for more than 7 hours would eventually cause me severe chest pains and if we could just remove the underwire I would feel more comfortable and pain free. I was forced to wear this bikini as it is, as my male director insisted it stay this way. I went ahead and did as I was told in the fear of being dropped/blacklisted from this production house. I woke up in the middle of my sleep due to these agonising chest pains. I will never forget how I resorted to screaming into my pillow.

The following morning I was a physically slower due to the pains I was facing and I explained this to my producers as they questioned me. My producer (male) told me that I was becoming too difficult to work with and I was throwing tantrums about a poxy bra; ITS JUST A BRA SAPNA! I then found out that the stylist herself thought I was being demanding and laughed about it with the male director and producer. I understand that she may have been scared to raise her voice as we all are at times; but she chose to ignore me and throw me under the bus instead. Did she do it to impress him? To be cool? To avoid doing her job? I've never understood why. But the question is do I throw her under the bus too? Will that elevate my career the way she thought it would hers? #hertoo

I was judged for complaining about a bra by a man, however it was a fellow sister; the one who I reached out to in confidence for support that stabbed me in the back. Can we stop doing this to each other please? Offices, schools, shooting sets everywhere! LETS NOT THROW EACH OTHER UNDER THE BUS. HOLD HER HAND WHEN YOU SEE SOMEONE DOING WRONG BY HER AND STAND UP FOR HER - BECAUSE IT CAN AND WILL HAPPEN TO YOU AND YOU ARE GOING TO NEED HER TO HOLD YOURS. #hertoo."