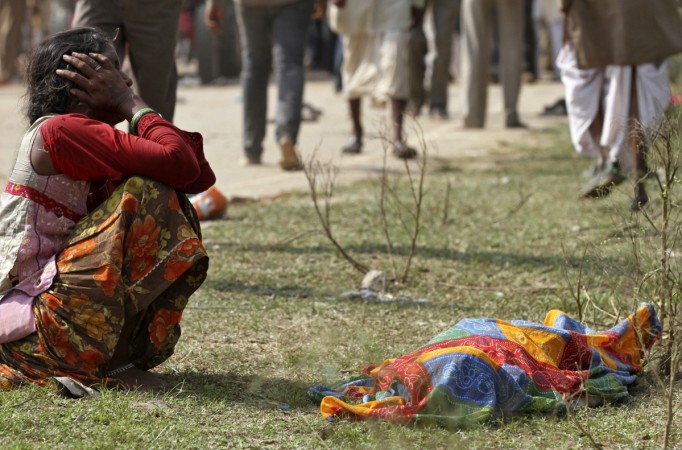 The naked body of a teenager was found near the railway tracks in West Bengal's Jalpaiguri district on Tuesday, a day after she refused to follow a village kangaroo court order asking her to lick spit.
"At 8.15 a.m. I saw a dead body. I have not seen anything this like before. If bodies come under the train, they are in pieces but with clothes on. In this case, only the shoulder was covered by a cloth," NDTV quoted Ganesh Prasad, who found her body.
The girl's father has accused 13 people, including TMC leaders and supporters, from the village, of raping and murdering his daughter. He has filed an FIR against TMC leaders, including Chandrakanta Roy and his wife Namita Roy.
In his complaint, he told the police that his daughter went missing soon after the meeting ended at 11.30 pm and the next morning her body was recovered naked from near the railway tracks, Hindustan Times reported.
On Monday night, Chandrakanta called for a meeting asking the victim's father to pay for his rented tiller to a contractor Anil Burman. Unable to pay the demanded amount at that very moment, he was beaten up by the village court members as a "punishment", to which his daughter protested.
The village court has, however, claimed that the 15-year-old committed suicide and the TMC too refused to have anything to do with the entire incident. However, the victim's uncle has alleged that she was threatened "openly" by the villagers, who conducted the meeting.
"My brother-in-law was beaten up and my niece protested. They threatened her. If she committed suicide, why was she without her clothes? I think they raped and killed her," he said.
The General Railway police have arrested the contractor Anil Burman and are investigating the incident further. Meanwhile, student activists of Students Front of India (SFI) and Democratic Youth Federation of India (DYFI) have called for a state-wide protest.