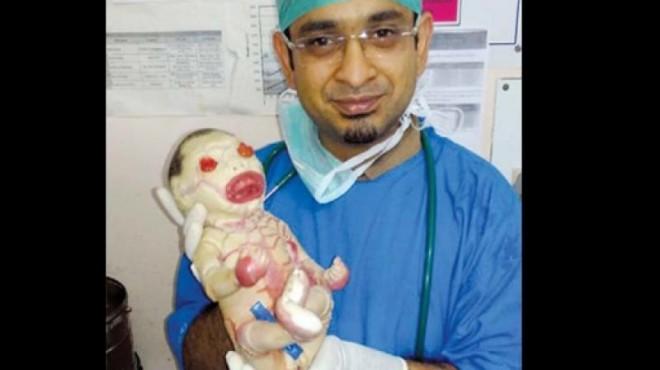 India's first reported Harlequin baby died at Lata Mangeshkar Hospital in Nagpur, Maharashtra, on Monday. She was born without an external layer of skin. The baby girl, weighing 1.8 kg, had a congenital disorder named Harlequin Ichthyosis, in which the baby's skin is covered with hardened, cracked skin and her internal organs were visible. The condition is very rare and has a prevalence of one in 300,000 births.
The infant was born on Saturday.
The doctors at the hospital said that the baby was in a critical condition since her birth and that her leading cause of death was Sepsis, which eventually led to cardiac and respiratory arrests, DNA reported.
Sepsis is a life threatening condition when the body releases its chemicals into the bloodstream, which instead attacks its own cells.
"The primary cause of death was sepsis in the body leading to cardiac and respiratory arrest. The baby was in a critical condition since birth and died at 4.30pm on Monday," Kajal Mitra, dean of the medical college and hospital, reportedly said.
The infant was born pre-term to a 23-year-old woman belonging to a farmer family. She has been kept under observation at the hospital.
The baby was born blind and had no ears, the doctors earlier said.
Yash A Banait, a pediatrician at the hospital, reportedly said that Harlequin Ichthyosis is a very rare severe genetic skin disorder that causes thickening of the stratum corneum of the epidermis. In such cases, the child's whole body is encased in an "armour" of thick white plates of skin separated with deep cracks. In addition, the eyes, ears, private parts and the appendages may be abnormally contracted.
Only a dozen Harlequin Ichthyosis cases reported worldwide since 1775. In 1984, a harlequin child, Nusrit Shaheen, was born in Pakistan and her other siblings were also reported to have suffered from the same condition. All of them died at an early age.