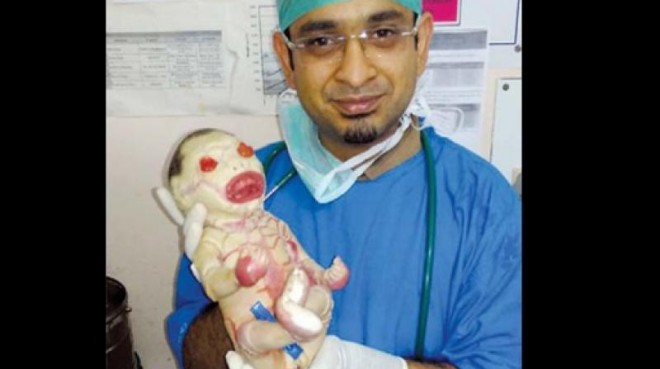 A baby girl weighing 1.8 kg with almost no external skin, no eyes and ears was born in Nagpur, Maharashtra on Saturday.
The infant is suffering from a rare congenital disorder called Harlequin Ichthyosis, in which the baby's skin is covered with hardened, cracked skin and her internal organs are visible. The condition is very rare and has a prevalence of one in 300,000 births, according to the Indo-Asian News Service.
The infant was born pre-term to a 23-year-old woman belonging to a farmer family at Lata Mangeshkar Hospital in Nagpur. She has been kept under observation at the hospital.
"The infant is born blind and the chances of her survival are uncertain," Yash A. Banait, a paediatrician who was present during the delivery along with obstetrician-gynecologist Prachi Dixit, told IANS. "It's the first 'Harlequin Baby' in the country," he said, adding that a similar case is said to have occurred in Chhattisgarh in 2014 but it was not medically proven.
The infant girl has two reddish swabs in place of eyes on the face. She has no ears while there are two holes as nose from where she is breathing. Her fingers, toes and palms haven't developed yet, according to IANS.
Doctors said that the baby is prone to infections as her skin is severely cracked, exposing her internal organs.
"Harlequin Ichthyosis is a very rare severe genetic skin disease that cause thickening of the stratum corneum of the epidermis. In such cases, the child's whole body is encased in an 'armour' of thick white plates of skin separated with deep cracks. In addition, the eyes, ears, private parts and the appendages may be abnormally contracted," Banait was quoted by the Hindustan Times as saying.
Doctors have now started various investigations to ascertain if the baby girl is suffering from other serious abnormalities. Her breathing has been reported to be normal till now, though her survival chances are said to be bleak.
Banait told HT that the baby has not been put on ventilation because there are no breathing problems reported yet.
There have been only a dozen Harlequin Ichthyosis cases reported worldwide since 1775. In 1984, a harlequin child, Nusrit Shaheen, was born in Pakistan and her other siblings were also reported to have suffered from the same condition. All of them died at an early age, according to IANS.