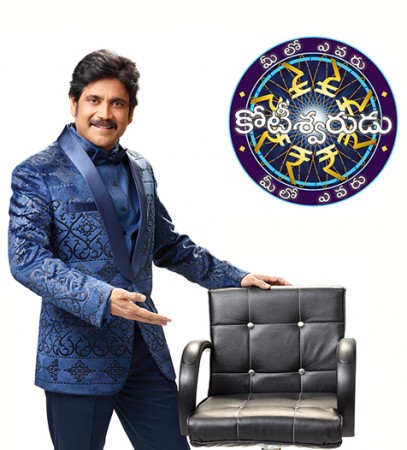 The registration process for the season 2 of Akkineni Nagarjuna's popular reality TV show, "Meelo Evaru Koteeswarudu" ("MEK 2"), which kick-started on 9 October, is now going in full swing. With four days after its announcement, the makers have already asked four questions that will qualify the participants to appear on the show, and they have received huge response from the viewers.
The registration lines of "MEK 2" opened soon after the first question went on air at 7pm on 9 October 2014 and it flashed on Maa TV till 6:30pm on 10 October. The viewers had 23 hours to answer the question and as per the insiders, a large number of people took part in the process, which has garnered equally good response on the following days. Here are the four questions asked in the first four days:
1Q: What is First Month in Telugu Calendar?
A)Vishakam
B)Sravanam
C)Chitram
D)Ashadam
2Q: What is the name of the Program that Government of India Introduced for Keeping India Clean on Gandhi Jayanti ie, 2nd October 2014?
A. Mera Bharath
B. Swachh Bharath
C. Mana Bharath
D. Shudh Bharath
3Q: What is the last film directed by veteran Director Bapu?
A. Mister Pellam
B. Pelli Pustakam
C. Sri Rama Rajyam
D. Radha Gopalam
4Q: U Srinivas, who passed away recently was an expert in playing which musical instrument?
A. Violin
B. Tabla
C. Sitar
D. Mandolin
The interested candidates can send in their SMSs to 57337. All registration through SMSs need to be in the following format: "MEK A/B/C/D ". For example, if the correct answer to the question is "A" according to a 21-year-old male, he is required to send SMS as "MEK A 21 M" to 57337.
The people, who have made it once to the Fastest Finger First on "MEK" season 1, will not be eligible to participate again in the competition of the seasons. The candidates, who are selected in the random shortlist, will receive a call from the organisers of the show in around five working days from the date of close of registration lines for that question. The auditions will be held in Hyderabad and Vijayawada from 28 October to 4 November.
"The main criteria for selection are your general knowledge and grasp over current affairs, which is evaluated across various stages. In addition, there is also an interview round and audition at the final stage where your personality and screen presence are also evaluated," read a statement from the press note released by MEK.