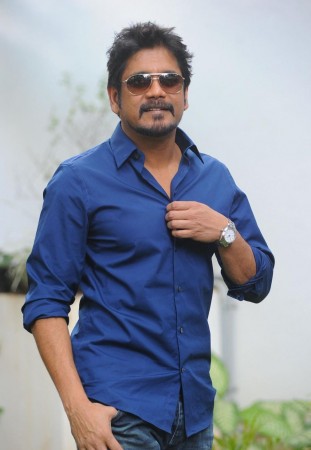 Actor Akkineni Nagarjuna has refused to confirm reports that he would star in the Telugu remake of Puneeth Rajkumar's recent release "Mythri", which has become big hit at the Sandalwood box office.
Directed by Gururaj, "Mythri" is a social drama that revolves around juvenile crime. The movie also focuses on relationships in the time of liberalisation. Puneeth Rajkumar has played himself in "Mythri", while Malayalam superstar Mohanlal appeared in important role. Apart from its commercial success, the film was appreciated for its strong and realistic script, performances and social message.
After getting to know about the superb response, Nagarjuna, who is now shooting for his forthcoming movie "Soggade Chinni Nayana" in Mysuru, Karnataka, recently watched "Mythri" at a special screening and he appreciated the movie. Soon after this, rumours about its Telugu remake started doing rounds in film circles.
Talking to a leading English newspaper, Nagarjuna admitted watching Mythri, but he denied the reports of its remake. "I was very impressed after watching the film because it has lot of values and messages to the society. There are speculations that I would be doing the Telugu remake, but nothing has been finalized yet," The Times of India.
After Manam, "Soggade Chinni Nayana" is the next movie of Nagarjuna to be shot in Mysuru. Recently, he said that he felt nostalgic about the place. The actor tweeted: "#scn feeling nostalgic shooting in mysore! brings back memories of December 2013 and Manam.Will post some pics of Scn tmrw:)"
The next day, Nagarjuna posted some photos on his Twitter account and wrote: "#scn shooting in a vishnu temple1500 years old with dear ramyakrishna after 15 years/as gorgeous as ever:)" Later he added, "#scn 5500 year old idol/king visnuvardhan of hoisala in ramunujan chary time built the temple around it 1100 years ago/blessed to work here."
We bring you the on-the-set photos of "Soggade Chinni Nayana" posted by Nagarjuna. Click here to see them.