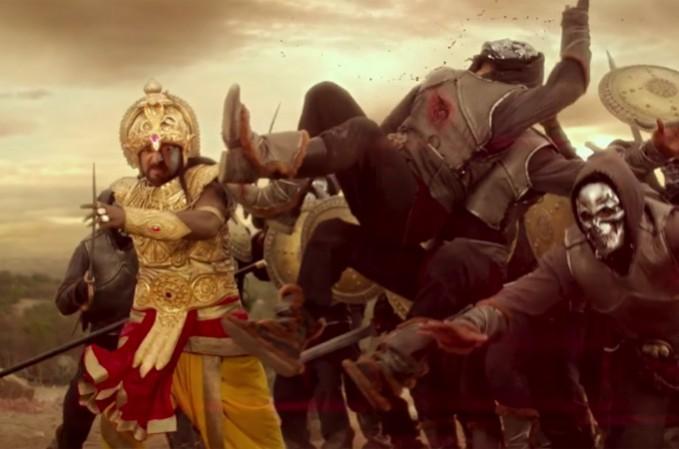 Ramya's comeback movie Nagarahavu, also spelled Nagarahaavu, is written and directed by Kodi Ramakrishna of Telugu movie Arundhati fame and produced by Sajid Qureshi. The movie has been dubbed in Tamil as Shivanagam and in Telugu as Nagabharanam.
Nagarahavu Movie Stills | Rare and Unseen Pics of Vishnvuvardhan
The major attraction of Nagarahavu is the presence of late Vishnuvardhan, who has been brought back to life on screen using high-end graphics. This is possibly the biggest experiment in visual effects carried out in India and the success of Vishnu's character would remain a landmark in the film industry.
Interestingly, this is the third movie with the title Nagarahavu that is hitting screens in Sandalwood. The first movie was a 1972 classic, directed by late Puttana Kanagal starring Vishnuvardhan. It had given a major break to the actor. In 2002, Upendra borrowed the name for his Kannada remake of Bollywood's "Baazigar."
Ramya's Nagarahavu in trouble in Tamil Nadu | Rajinikanth to watch Nagarahavu
Coming to the latest film, Diganth is the male lead in Nagarahavu, which also has Saikumar, Ravi Shankar, Sadhu Kokila, Mukul Dev, Ravi Kale and others in the cast. Gurukiran has scored music and a few of his tracks have turned out to be big hits. Venu has handled cinematography, while Jony Harsha has edited the Kannada film.
The movie has been made with a budget of Rs 40 crore and the makers have spent Rs 15 crore alone for a nine-minute portion of Vishnuvardhan. The movie has recovered a major part of the money through the sale of theatrical rights and satellite rights from three languages.
Story:
The story of Nagarahavu celebrates the triumph of good over evil. The Gods would lose their power when there is an eclipse. Hence, they store all their power in Shakti Kavacha and handover it to a family, which protects it till Shivayya (Saikumar) loses it at some point. Now, his daughter takes the responsibility of winning it over. What happens next could be seen on-screen.
The trailer and teaser have generated a lot of curiosity around the movie and the audience are curious to know whether the movie would live up to their expectations. Below, find what the viewers say about the flick:
Kannika Urs: From titlecards to climax @divyaspandana stole the show. Switching over of characters, action, dance - everything was stellar.#Nagarahavu
In ❤️ with @divyaspandana 's #Naganika performance. Go watch #Nagarahavu & that pretty snake will haunt you for sure.
Pʀaʋɛɛռ: #Nagarahavu simple story made with rich making loved @divyaspandana as Naganika no1 can match her performanceGraphics is real herogud film
#Nagarahavu good 1sthalf
Flashback opens in 2ndhalf Now interval
My Autograph deepa dubbed her voice for #Ramya i really like her voice #Nagarahavu going good..
DileepKumar (Hubli): Now watching #Nagarahaavu. Legend on screen.
#Nagarahavu - Watch it for legend Dr.Vishnuvardhan sir. Don't expect anything much for kodi.
Shankar Ganesh: Went with so much of expectations. But has not lived up to my expectations. #Nagarahavu
Watcable once if we want to see some finest performances. #Nagarahavu
I give 2.5 out of 5. #Nagarahavu
Priyanka: #Nagarahaavu turns out to be an average movie with rich graphics. Must watch for #Vishnuvardhan fans #Nagarahavu #ShivaNagam
#Nagarahavu first half done. Good. Graphics and songs have special mention.
The list of 200 films of late #Vishnuvardhan. #Nagarahaavu #Nagarahavu #ShivaNagam
#Nagarahaavu makers pay tribute to Vishnu through a song. Crowd goes crazy over #Nagarahavu #ShivaNagam
Now watching: #Nagarahaavu #Nagarahavu #ShivaNagam
Vaishali MP: Watched #Nagarahavu , @divyaspandana has nailed it with her stunning looks & outstanding performance Two eyes are not just enough