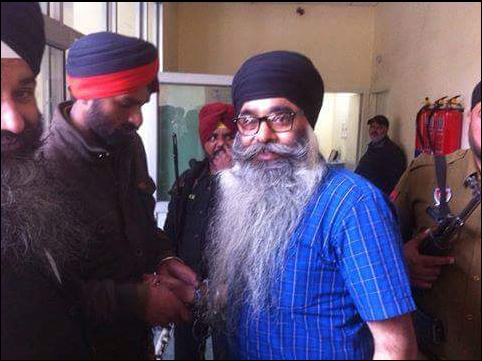 Delhi Police arrested Khalistan Liberation Force (KLF) chief Harminder Singh Mintoo from the Delhi-Haryana border on Monday morning. He had escaped from Nabha Jail in Patiala along with five others on Sunday. Four of the escaped prisoners were identified as — Gurpreet Singh, Vicky Gondra, Nitin Deol and Vikramjeet Singh Vicky.
The investigators have also managed to nab Gurpreet Singh and his aides from Jalandhar. Arms and ammunition have been recovered from the prisoners. Two cars with Punjab number plates have also been found abandoned near Kaithal in Haryana.
A group of armed men in police uniforms had broken into the premises of the prison and fired around 100 rounds before taking away Mintoo and five others.
"Mintoo had trimmed his beard making it difficult to identify him. His plan was to escape from Goa via Mumbai. The DCP is monitoring the situation. We're interrogating Mintoo and conducting further probe based on leads given by him. A pistol and six cartridges have been recovered. A case has been registered under relevant sections," Special Commissioner of Delhi Police (Special Cell) Arvind Deep told the media on Monday.
"We were constantly in touch with Punjab, Haryana and UP police after the jailbreak. There were teams deployed at strategic locations and guesthouses and hotels were checked. Mintoo was carrying some money with him. It was a pre-planned thing. Mintoo was part of the module of the escapees," he added.
Mintoo is an accused in 12 terror-related cases and was arrested from New Delhi's Indira Gandhi International Airport in 2014. He had received bail in two of these cases while the police asked the court to discharge him in a third case, the Indian Express reported. According to his lawyer, he was not directly involved in any of those cases. Most of his plots were foiled by the police beforehand.
He is also accused of attacking Dera Sacha Sauda chief Gurmeet Ram Rahim.
According to reports, police claims that 49-year-old Mintoo has been trying to re-establish KLF and also has links with officers from Pakistan's Inter-Services Intelligence. His lawyer said that there was no reason for Mintoo to escape as he was soon to be released.
Punjab Deputy Chief Minister Sukhbir Singh Badal said that Nabha Jail's director general of prisons, along with the jail's superintendent and deputy superintendent have been suspended over the jailbreak.
"A special task force has been set up to track these criminals. Ek jagah thoda encounter bhi hua hai. We will catch them. A team under the additional director general of police (ADGP) has been formed to investigate the incident. Strict action will be taken against whoever is responsible," Badal had told the media.
The Punjab government had announced a reward of Rs 25 lakh to anyone who could provide information on the escaped prisoners. A high alert was also sounded across the state.
Late on Sunday, Uttar Pradesh Police had arrested a man named Parminder in connection with the jailbreak. Uttar Pradesh Additional Director General of Police Daljeet Singh Choudhary told ANI that a "huge cache of arms" were recovered from Parminder and that he had confessed to being part of the group that stormed the prison in Patiala. He has been sent to 14 days judicial custody.
The Union Home Ministry has also sought a report on the incident from the Punjab government. "We are ready to provide whatever assistance is required. I have asked the Home Secretary to ask for a report from Punjab government," Minister of Home Affairs Rajnath Singh said.
Meanwhile, Punjab Congress chief Amarinder Singh has lashed out at the state government and said: "The incident has exposed a complete breakdown of law and order in the state. The manner in which the gangsters walked into the high-security jail and freed the dreaded Khalistani terrorist clearly shows complicity at the highest levels."
"Main dawaa karta hoon ki ismein sarkaar ka haath hai (I can assure you that the Punjab government is responsible for this jail break). I demand President's Rule in the state in wake of Nabha jail break that wouldn't have been possible sans connivance of the Badal government," he added.