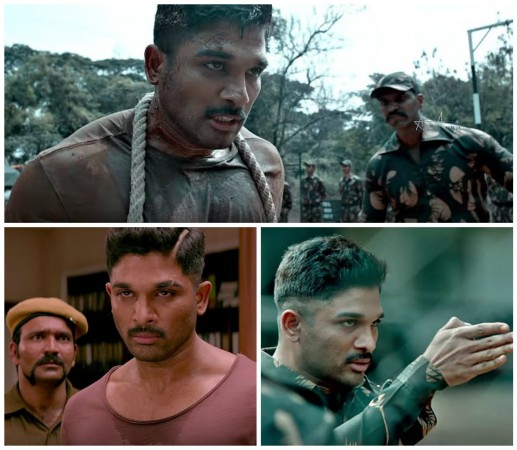 The first impact of director Vakkantham Vamsi's Naa Peru Surya Naa Illu India has registered 10 million views and stylish star Allu Arjun thanked his fans for the wonderful response to the teaser.
Allu Arjun is a playing a soldier in Naa Peru Surya and has opted for a makeover. His new look featured in its first look had created more demand for its teaser. The stylish star released the first impact video of the movie on his Facebook and YouTube channels as a New Year treat for his fans on January 1.
The first impact of Naa Peru Surya impressed the viewers, who went to circulate it heavily and make it trend on all social media channels. This first look video crossed 1 million views in 80 minutes and 5 million views in 15 hours. The teaser went on to set another big record, by getting 10 million views in 29 hours.
The teaser of Naa Peru Surya has registered 6 million views on YouTube channel of Allu Arjun and 4 million views on his Facebook account within 29 hours of its release. The actor is all thrilled over the humongous response to the teaser and could not stop from thanking everyone.
Allu Arjun took to his Twitter page on Tuesday night and shared a poster featuring the new record of fastest 10 million views. He also wrote: "Thank You All . I am Grateful for the Wonderful Response. Humbled."
When the first impact of Naa Peru Surya was released, the hashtag #NSNIFirstImpact trended on Twitter, Facebook and YouTube. Now, it is time for another hashtag. Yes! #10MViewsForNSNIImpact is now creating buzz on the social media.
However, Naa Peru Surya is scheduled for grand worldwide release on April 27. Its first impact has really created a great impact on the film goers and made them wait for its release with abated breath.