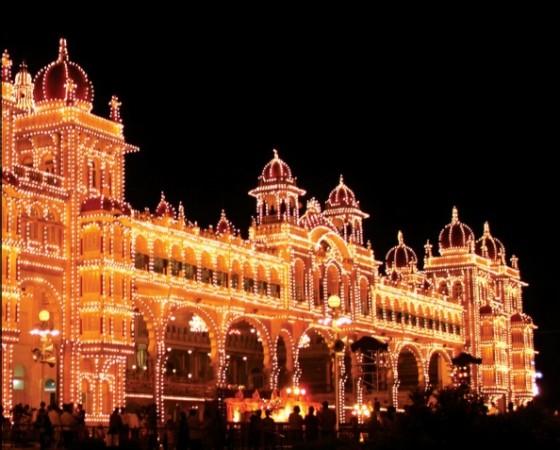 Dasara is one of the most important festive occasions in Karnataka and it's when all roads lead to Mysuru. From October 1 to 11, Mysuru is transformed into a city of beautiful lights and bright colours with numerous events bringing together people from across India.
The Kempegowda International Airport in Bengaluru has also started welcoming visitors in the same festive spirit. A huge life-size beautifully adorned elephant has been put up by the Tourism Ministry along with a Bombe Habba.
The festival kicked off with the Gajapayana on August 21, when the elephants that take part in the famous procession arrive in the city. This year the Howdah elephant was Arjuna, who is accompanied by Balarama, Abhimanyu, Cauvery, Vijaya, Gajendra,Vikrama, Gopi, Harsha, Prashanth, Durgaparameshwari and Gopalaswamy. Meanwhile, the Mysuru Palace is also lit up each night with over one lakh LED bulbs - and this is a sight that's not to be missed!
Special events have been planned over the next 10 days and it will culminate with the Mysuru Dasara Procession, which includes the Jumboo Savari, on October 11. The other events that are a big draw during Dasara are the film festival, Yuva Dasara, Food mela and sporting events. This year a special helicopter ride has also been organised. People can now take a 10-minute ride that starts at Lalith Mahal hotel and get a bird's eye view of all the major tourist sports of Mysuru. Click here for the full schedule of events.
Though the Cauvery water row may have slightly dampened the festivities, the state tourism department has ensured that all special arrangements have been made for visitors. An interesting move has been the launch of Wi-Fi hotspots across Mysuru for people to stay connected and yes, upload pictures of the festival.
A special luxury train -- Royal Routes Tour -- has also been launched for Dasara this year. The two night and three day packages come at a cost of Rs 30,000 per person, but it's a once-in-a-lifetime experience. The train leaves Bengaluru and is scheduled for October 1, 3, 5, 7 and 9. The package includes everything from accomodation to tickets and a guide so it's a great way to enjoy the occasion with no stress. If you are on a budget there are plenty of hotels that have good deals, but booking in advance is a must as there is high demand.