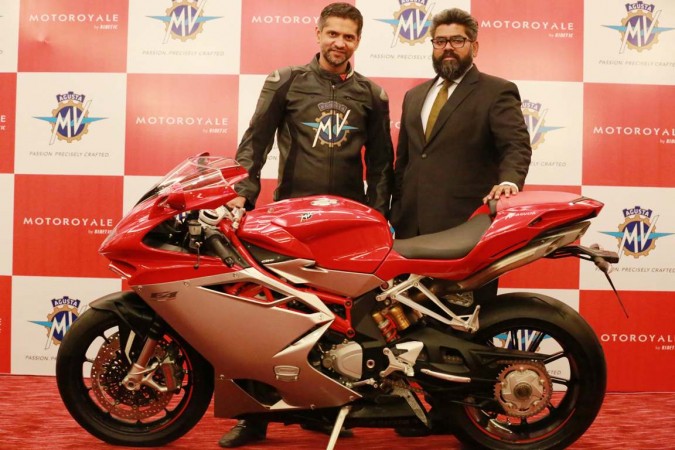 Italian sports bike maker MV Agusta entered the Indian market in partnership with Pune-based Kinetic Group on May 11. MV Agusta India Pvt. Ltd. launched its first range of superbikes, the F4, F3 and Brutale 1090, which will be available at its first Motoroyale dealership in Pune.
The most affordable MV Agusta model in India, the F3 800, has been priced at Rs.16.78 lakh, ex-showroom Pune. The motorcycle has been powered by an 800cc three-cylinder engine. The F3 800 is equipped with ABS, eight-stage traction control and multiple riding modes.
The Brutale 1090 range consist of two models, the regular one and the RR version. The Brutale 1090 is priced at Rs. 20.10 lakh and has been powered by a 1078cc four-cylinder engine that produces 144hp and 112Nm of torque. The performance-oriented Brutale 1090 RR is priced at Rs. 24.78 lakh. This sports bike features a motorsports ABS system.
MV Agusta F4 is priced at Rs. 26.87 lakh and is powered by a 998cc four-cylinder engine, which produces 195hp and 111Nm of torque while the F4 RR costs Rs. 35.71 lakh. The top-end version of the F4 series, the F4 RR, boasts of an inertial control platform with lean angle sensor, full ride-by-wire, Ohlins electronic suspension and steering damper as well as GP-spec titanium con rods.
"This is the perfect time for us to enter India, as we are witnessing a surge in demand for premium motorcycles. We offer biking aficionados best-in-class superbikes that boast exquisite designs by the renowned Massimo Tamburini as well as superior cutting-edge technology. MV Agusta motorcycles guarantee a riding experience that's second to none," said Judah Immanuel Sangaran, FarEast Country Manager, MV Agusta Motor S.p.A, in a statement.
MV Agusta India will set up dealerships soon at Ahmedabad, Bangalore, Chennai, Delhi and Mumbai. MV Agusta India Pvt. Ltd. will also distribute its sports bikes in Bangladesh and Sri Lanka.