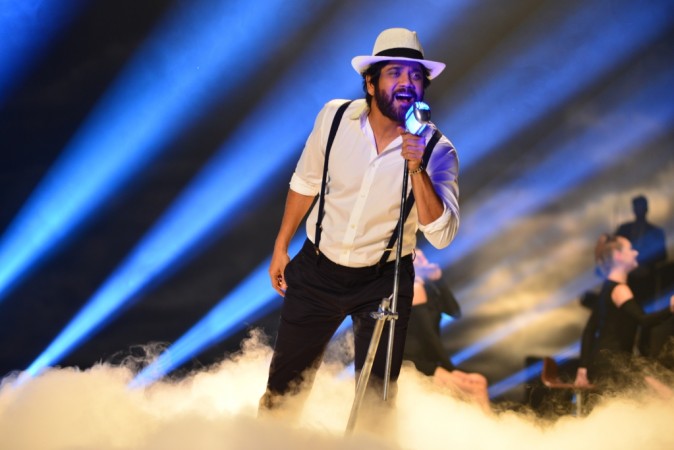 Actor Akkineni Nagarjuna is turning a singer with love song "Kotha Kotha Bhasha, Kotha Prema Bhasha" from "Nirmala Convent" and its music video has got a decent response from the audience.
"Kotha Kotha Bhasha, Kotha Prema Bhasha" is a 2.30-minute long soulful song sung by A R Rahman's son Ameen. Nagarjuna was so impressed with that he decided to record it in his own voice, which has come out well. "This craving of Nag didn't surprise me at all, he was at his best rendering the beautiful love song," Roshan Salur, who has scored the music for "Nirmala Convent."
When asked about his desire to sing, Nagarjuna says Ameen's version lured him to become a singer. "I just got hooked to this beautiful love song sung by Master AR Ameen, s/o A R Rahman, and I decided that this is the song I should croon in my own voice. I loved the way it shaped out. I hope my fans and music enthusiasts will love this beautiful heart warming New Age Love song," said the King.
The trailer of the song "Kotha Kotha Bhasha, Kotha Prema Bhasha" was released in theatres along with "Kabali" on July 22. The music video of this song, featuring Nagarjuna, was unleashed to electronic and digital media on July 24. Aditya Music, which has acquired the rights of "Nirmal Convent," released the video on its official YouTube channel.
The music video of the song "Kotha Kotha Bhasha," released by Aditya Music, has received 325,000 views, 5340 thumbs up (likes), 125 thumbs down (dislikes) and 375 comments in three days. Most of the comments are positive responses from the video and the viewers are lauding Nagarjuna's voice and performance.
"Nirmal Convent" is directed by G Naga Koteshwara Rao and produced by Akkineni Nagarjuna and his friend Nimmagada Prasad under Annapurna Studios. Roshan and Shreya Sharma are playing the lead roles in the movie, which is scheduled to be released in theatres around the world soon.