There is no dearth of oddities in the world which naturally evoke public interest and curiosity. Did you know that there are museums dedicated to storing and exhibiting the strangest of items? From toilets in New Delhi, instant noodles in Japan and barbed wires in America to bread in Germany, lawnmowers and dog collars in England to all types of Phallological specimens found in mammals (including human) in Iceland, museums have so much to offer and yes, the world loves to celebrate the strange.
One such unique museum founded in 1985 in Mexico city that is on the seventh floor of the Ministry of National Defense -- or Mexican army HQ -- is however closed to the public. The museum is called the Museo de Enervantes (roughly translated as Museum of Stupefacients), but it is known more popularly as the Drug Museum or Narco Museum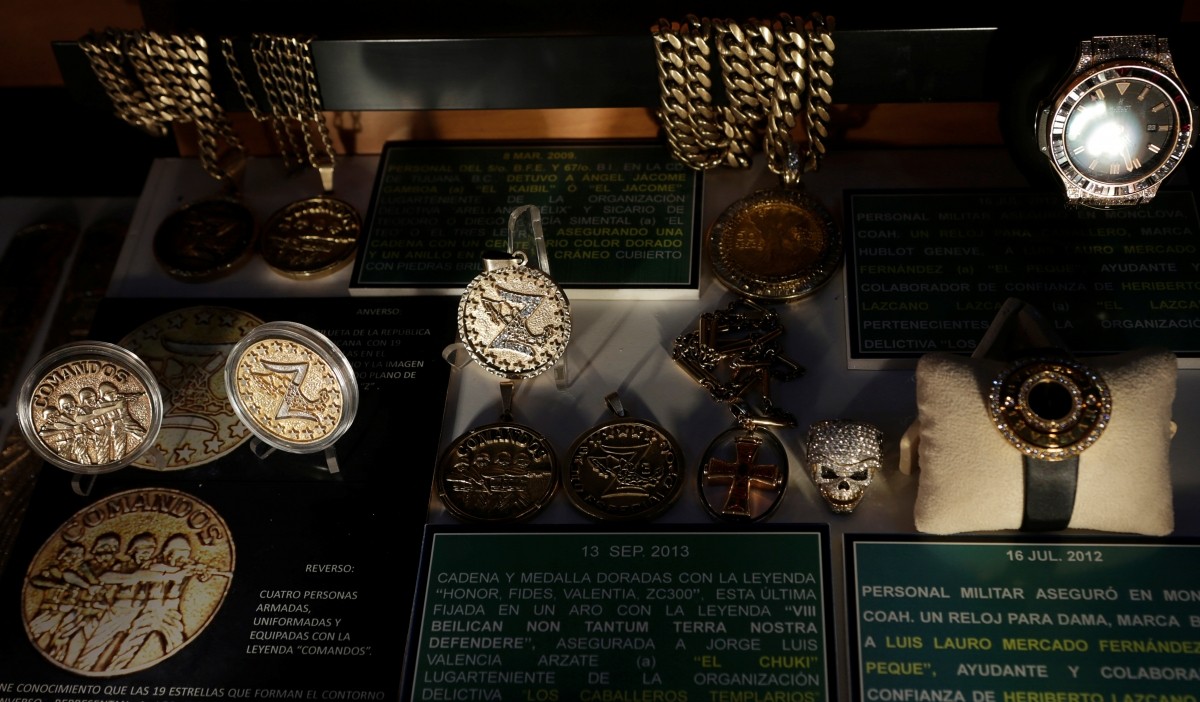 While walking through the museum, one can see strange contraptions belonging to drug labs, such as clandestine heroin labs built from seized jugs and hoses, a bulletproof cowboy waistcoast, seized narcotics, medallions, a cell-phone bathed in gold, a carved wooden chair in the form of the grim reaper and busts of bandit turned "narco saints." Some exhibits are also examples of the ingeniousness of the traffickers, such as a frame of a picture of the Virgin of Guadalupe that is stuffed with cocaine and another of a couple of dead armadillos also used for smuggling.
Another similar picture near the museum's exit features a chubby boy, about a year old, sitting on the floor. Clad in camouflage, the boy is surrounded with stuffed animals and two dozen AK-47s. While one can assume that this seized memorabilia may be a glorification of Narco traffickers and drug dealers (Breaking Bad or Narcos anyone?), Captain Claudio Montane, a guide at the military museum strongly and vehemently disagrees.
"The most effective way of combating narco trafficking is to understand it better...Its purpose is to show Mexico and the world the efforts and the good results that we have achieved" Montane has been quoted saying to the Guardian.
Montane is right. Mexico has been under the grip of some of the worst drugs-related violence in the western hemisphere. Clashes between troops and drug traffickers, and among rival gangs, have claimed more than 10,000 lives. The museum amply reflects this reality. A plaque at the museum's entrance tallies the military's losses and 99 officers and soldiers died between December 2006 and 2009.
But the most interesting space in the museum to see is definitely the "narco-culture" room that houses weapons, that also include heavy weapons such as rocket launchers like the RPG-29. Here one can see gold plated and gem studded guns with revolutionary symbolism in the form of engravings relating to revolutionaries such as Francisco "Pancho" Villa and Emiliano Zapata.
One pistol has an engraving with the date of Mexico's independence September 16, 1810, while another one has a proverb from "Pancho" Villa : "I'd rather die on my feet than live on my knees." But there are also guns with names of fashion designers such as the Italian tailor Versace. There is also a gun with 221 diamonds on its handle.
Who knew that these bloodthirsty gangsters were simultaneously patriotic, saintly, philanthropic, fashionable, trendy and clichéd? The point to remember is that without the dedication and sacrifice of the brave soldiers of the law enforcement agencies, we would have never been privy to a slice of their life.
Here are some exclusive pictures of the museum from the "Narco Culture" room: