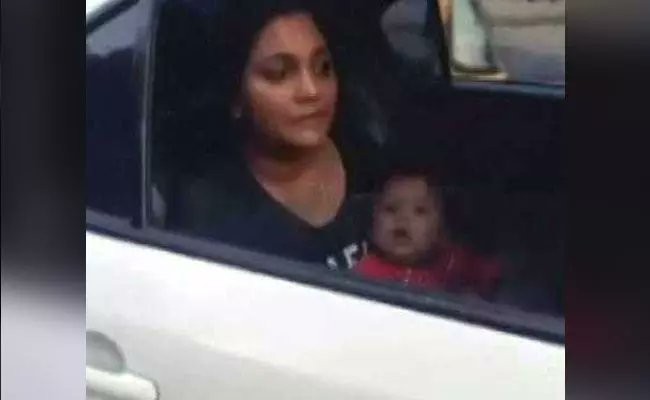 In a shocking incident in Mumbai's Malad area, a traffic constable towed away a car even as a woman sat in the backseat of the vehicle breastfeeding her child and requesting the constable to let them go as her baby was unwell.
The traffic cop was suspended from duty after the video of the act went viral on social media.
Here's what happened
The incident took place on SV Road in Malad west at around 5:30 pm on Friday when the traffic cop found the car parked in a no-parking zone on the busy SV Road.
The woman, who has been identified as Rakhi Mali, had gone to Malad with her husband and her seven-month-old child when the traffic police arrived and a towing vehicle started to haul away the car.
Despite the helpless family and the onlookers requesting the traffic police, the constable named Shashank Rane did not let the couple go.
"My husband requested the traffic cop to take the fine amount and release our car. Our child is unwell and we wanted to rush to a doctor. However, the traffic cop was adamant and did not listen to us," said Mali.
The entire act was filmed by a bystander, who then uploaded it on Facebook.
One report said the woman even showed the bystander videograophing the act a prescription.
Mali can be heard shouting at the cop to stop the vehicle but Rane did not. The matter was resolved only after local police reached the spot.
Local reports also claimed the woman alleged the traffic cops did not tow away the vehicles parked there.
"They ignored the two other vehicles, but towed away a car in which a woman with an infant was sitting. They don't have guts to take action against the other vehicles here," the woman said.
Joint Commissioner of Police (Traffic) Amitesh Kumar subsequently said they were probing the incident.
"The DCP traffic (western suburbs) has been ordered to visit the spot and conduct an inquiry into the incident at once. It will be dealt with appropriately and sternly after the report is received tomorrow (Sunday)," said Kumar.
Meanwhile Maharashtra Chief Minister Devendra Fadnavis has also condemned the incident.
"Very unfortunate. Absolutely insensitive & dangerous to tow the vehicle with lady and the child inside. The cop is suspended and orders have been given to sensitize traffic cops so as to prevent such incidents," Fadnavis told ANI.
Watch the video here: