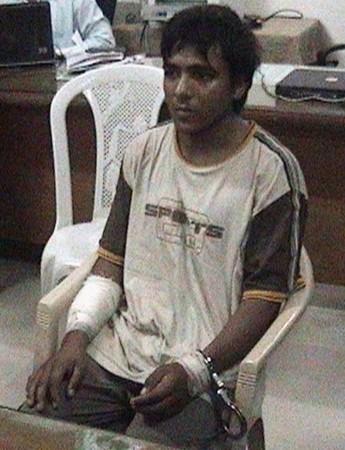 The government of Maharashtra has reportedly spent more than Rs. 16 crores on one of the country's most infamous prisoners - the lone, captured terrorist involved in the Nov. 26, 2008, Mumbai terror attacks.
Mohammed Ajmal Kasab, 24, a Lashkar-e-Taiba terrorist, was sentenced to death, on May 6, 2010, by a special anti-terror court, for the charge of killing 166 people and injuring 238 more, in addition to waging war on India, possessing explosives and other related accusations. The Bombay High Court upheld the death sentence on Feb. 21, 2011.
He is currently lodged in a special cell at the Arthur Road Jail in Mumbai. Apparently the construction of that cell alone cost the state exchequer over Rs. 5.24 crores; in addition, a further Rs. 1.5 crores was spent on building a special prison ward inside J.J. Hospital and his medical bills so far have come to Rs. 26, 953. Kasab has been housed in the cell for three years now.
As part of his security arrangements, a reported 20 Indo-Tibetan Border Police commandos, armed with sophisticated weaponry and communications equipment, guard him 24 hours a day. The bill, for the period March 28, 2009, to Sept. 30, 2010, alone, came to Rs. 10.87 crores. The Home Department spent a further Rs. 1.5 crores providing special vehicles around the Arthur Road prison to ensure the prisoner's safety. Finally, refuting the claim that Kasab was on a diet of costly food items, Home Secretary Medha Gadgil asserted that no more than Rs. 25 per day was spent on feeding him.
The above expenditure, incidentally, does not include legal expenses borne by the state government to fight the case. Special Public Prosecutor Ujjwal Nikam was paid Rs. 50,000 per day during the Supreme Court hearing, in addition to being provided with business class flights and VIP accommodation.
However, Gadgil has claimed that the prisoner's security was not a matter of concern for only the state government. According to her, the Maharashtra government has written to the centre, to waive the bill of Rs. 10.87 crores, to be paid for the deployment of the ITBP.
On 6 May 2010, a special court in Mumbai sentenced him to death on killing 166 people, injures around 238 people on 26 November 2008, waging war on India, possessing explosives, and other charges.