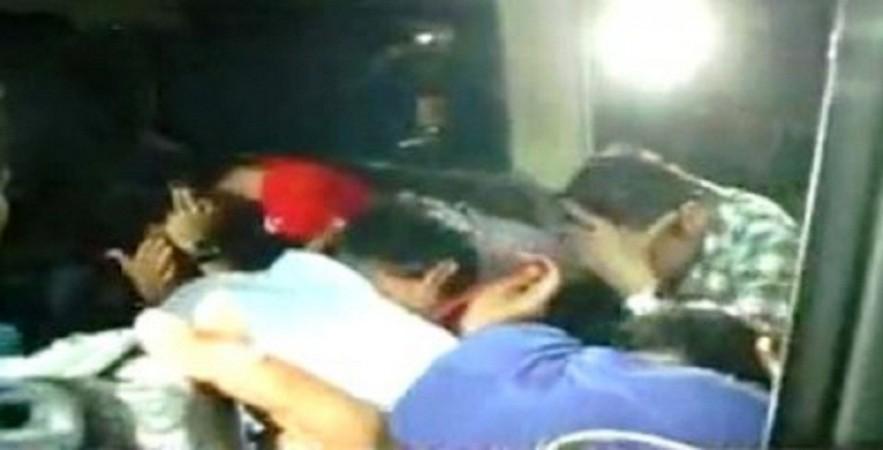 A day after Mumbai police busted a rave party in Juhu, celebrities and IPL team Pune Warriors players, who were at the party players, claimed innocence on Monday.
Mumbai police on Sunday busted a rave party at the Oak Woods Hotel in Juhu and arrested two IPL players, foreigners, several television actors and other high-profile people.
On Monday, the Pune Warriors players and television actors denied taking drugs in the party.
Television actors Apurva and Shilpa Agnihotri, who are real life couple, claimed that they are innocent and said they were not aware of the rave party.
"We reached there only at 6.30 pm and the police came in at 6.50 pm. We were shocked. We didn't even know what was happening there," Daily Mail quoted Apoorva as saying.
The two IPL players Rahul Sharma and Wayne Parnell, who were detained at the party, also claimed innocence. Sharma maintained that he accompanied Parnell for a birthday party.
According to reports, around 58 men and 38 women were detained at the rave party. Police let off most of the arrested people after the medical tests but the director of the hotel Vishay Handa, was detained under the Narcotic Drugs and Psychotropic Substances act. He was produced in court on Monday and will remain in police custody till May 25.
Officials were reported to have seized narcotic drugs and approximately 110 grams of cocaine, including MDMA, popularly known as ecstasy, and charas.
Mumbai police recently said that they have also seized a comprehensive guest list that Handa gave to the hotel's manager.
"Sharma and Parnell's names weren't on the list, which means they either casually strolled in or were brought in by someone else," The Times of India quoted an officer as saying.
The party invite is still available on Handa's Facebook page. And according to police, the page contains hints of the party being a rave, such as "THIS sunday we decided to bring something down... DESIGNER HIPPIES (United Beats Records, USA) ARE bringing the SUN "DOWN". Let's rock this town- so get ready to get high... Please do not try to FLY.. Because Flying is an illusion not a Reality, come with us and we'll make you feel Gravity."
However, Handa claims that the event link was posted by someone else. The invitation was sent to more than 2,500 people on Facebook.
Vishwas Nagre Patil, additional police commissioner, told The Telegraph India: "This was a pay party- a large one-off rave event with all-night dancing to house music - so far such rave parties, or acid house parties as they are otherwise known, were held outside Mumbai city. We have had information that such parties on a smaller scale were being held in the city in private residences. This was the first time we had solid information that a rave was being held in a restaurant or night club and we raided."