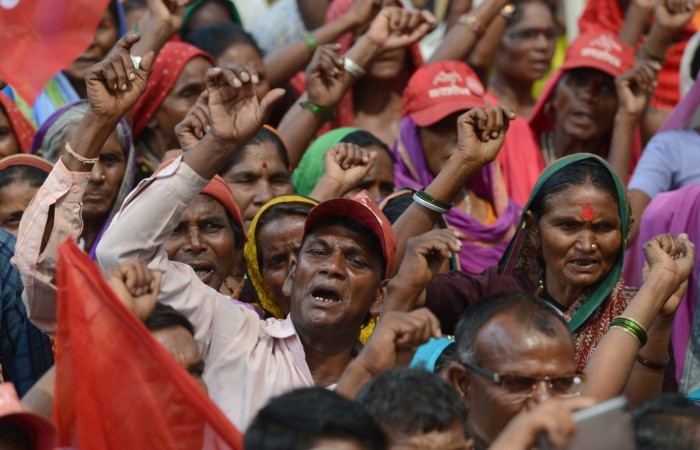 Farmers of Maharashtra took to the streets of Mumbai on Wednesday led by Swaraj Abhiyan activist Yogendra Yadav and conservationist Rajendra Singh. Their protest which began at Thane on Wednesday will come to an end at Azad Maidan on Thursday.
The farmers gathered overnight at Thane demanding the Fadnavis government to keep its promise and implement the Swaminathan Committee Report with which they will have an easy access to resources.
The farmers also demand a Minimum Support Price, loan waivers and compensation for the crops they lost during the cyclical drought.
Live Updates
2018-11-2215:07 (IST)
Protesters refuse to leave Azad Maidan
"We will not leave Azad Maidan until our demands are met. We will decide our further course of action after meeting the chief minister," Lok Sangharsh Morcha general secretary Pratibha Shinde was quoted saying by Indian Express.
2018-11-2211:47 (IST)
Farmers to march to Vidhan Bhawan
After the farmers reach Azad Maidan later Thursday, they are expected to protest near Mumbai's Vidhan Bhawan where a state legislature meet is being held.
2018-11-2210:58 (IST)
Drought hit Maharashtra
Recently, Maharashtra was hit by a massive drought where 180 tehsils in the state were declared drought-hit. The Wire reported that 136 tehsils had recorded 30 percent deficient rainfall, and 27 recorded more than 50 percent deficient rainfall.
2018-11-2210:26 (IST)
Mumbai traffic police lists out areas to avoid
Commuters starting journey from South Mumbai using JJ flyover, Lalbagh flyover and Parel flyover towards Dadar are advised to avoid & use Slip Roads till 10 AM. Farmer's agitation scheduled today.
Regular Traffic movement on Dr BA Road towards CST and on these flyovers.

— Mumbai Police (@MumbaiPolice) November 22, 2018
Traffic in the vicinity of Azad Maidan will be marginally affected around 9 AM - 10 AM

— Mumbai Police (@MumbaiPolice) November 22, 2018
2018-11-2210:25 (IST)
Farmers to meet CM Fadnavis on Thursday
The farmers who are marching under the banner of Lok Sangharsh Morcha, are scheduled to meet Chief Minister Devendra Fadnavis on Thursday evening after their protest culminates at Azad Maidan.
"We will definitely meet the Chief Minister and put forward our demands. Only after the meeting, we will be able to decide whether the government and us are on the same page. In the last six months, the government has not even done even two per cent of the works they promised to us," Lok Sangharsh Morcha Pratibha Shinde told ANI.
2018-11-2210:22 (IST)
Visuals of protesters reaching Dadar
Maharashtra: Lok Sangharsh Morcha that comprises of tribals and farmers across the state reaches Dadar. The Morcha that has begun from Kalyan yesterday is marching towards Azad Maidan in Mumbai. The farmers are demanding loan waiver and drought compensation among others. pic.twitter.com/K6c3RHp4jb

— ANI (@ANI) November 22, 2018
2018-11-2210:19 (IST)
30,000 farmers participate in the protest
30,000 farmers take to the streets of Mumbai demanding the government to fulfill their demands.
The farmers and members of different tribes arrived at Dadar on Thursday morning. the protest is scheduled to end at Azad Maidan later in the day.
2018-11-2210:08 (IST)
CPM sides with the protesters
Communist Party of India (Marxist) took the protesters' side. They tweeted, "Damning report on Modi's demonetisation disaster from the horse's mouth! Agriculture Ministry admits note bandi hit farmers badly, at time when farmers from across India head to Delhi to mark their anger in the form of a massive Kisan Long March to parliament."
2018-11-2210:06 (IST)
Farmers' demands at Mumbai protests
The farmers participating in the protests have come from Ahmednagar, Vidharba, and northern parts of Maharashtra.
The farmers criticised Maharashtra chief minister Devendra Fadnavis for not keeping up his promise and implementing the Swaminathan Committee Report, which will give them access to resources such as land and water, a judicial committee to look into farmers' matters, complete loan waivers and compensation for the loss of crops during the drought.