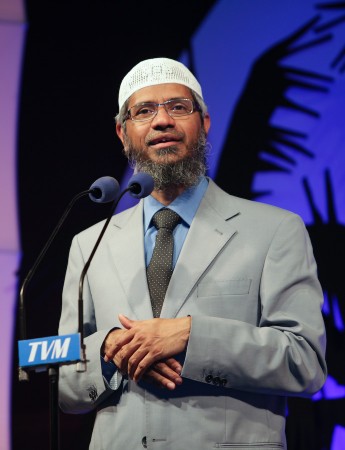 Maharashtra Chief Minister Devendra Fadnavis on Thursday ordered the Mumbai police to probe Islamic preacher Zakir Naik, in the aftermath of the attack in Dhaka last week, perpetrated by youths from the Islamic State group. It had emerged earlier that the attackers had been inspired by televangelist Naik, his speeches and his ideology.
Naik founded the Islamic Research Foundation in Mumbai, and has quite regularly been in the eye of the storm over his preachings and ideas: He had famously refused to call Osama Bin Laden a terrorist. He has been denied entry by countries across the world like the United Kingdom, Canada and Malaysia.
"I have asked the Mumbai Police commissioner to conduct a probe [into Naik's speeches] and submit a report," Fadnavis was quoted as saying by a Press Trust of India (PTI) report. Under scanner are not only his speeches but also his social media interactions, the source of funding for the Islamic Research Foundation and various other aspects related to Naik.
The Indo-Asian News Service (IANS) quoted Home Minister Rajnath Singh as saying on Friday that even the Central government was looking into the matter.
"We have taken cognisance of Zakir Naik's speeches and necessary instructions have been issued in this regard. His speeches/CDs are being examined and whatever is justified will be done," he was quoted by IANS as saying. He added: "As far as the government of India is concerned, we will not compromise on terrorism at any cost."
The preacher, meanwhile, was quoted by the PTI report as saying: "There is not a single talk of mine where I encouraged one to kill another, whether Muslim or non-Muslim."
He has also called the Islamic State group, , also known as the Islamic State of Iraq and Syria (Isis) or the Islamic State of Iraq and the Levant (Isil), un-Islamic and said: "By using the name Islamic State, we are condemning Islam... They are the anti-Islamic state of Iraq and Syria that has killed innocent foreigners. The name is given by enemies of Islam."
This is something a top Indian cleric from Lucknow would later concur with, and similar in vein to what Bangladesh Prime Minister Sheikh Hasina had said in the aftermath of the Dhaka attacks, in which 20 foreigners, besides two policemen and six terrorists, had been killed.
She had said in a televised statement after the attack: "What kind of Muslims are these who kill others during Ramadan? Anyone who believes in religion cannot do such an act. They do not have any religion, their only religion is terrorism."