A small chartered plane, which earlier belonged to the Uttar Pradesh government, has reportedly crashed in an open area in Mumbai's Ghatkopar. All the four people onboard and one pedestrian have died in the mishap.
A plume of smoke was seen billowing behind a building
The police and five fire brigade teams have now been rushed to the spot.
Massive search and rescue operations are underway. The police have asked the public to stay away from the spot as it would hamper rescue operations.
The black box of the aircraft has been recovered and could provide vital clues.
The National Disaster Response Force (NDRF) have also been pressed into action for cooling operations
The DGCA has said that it will conduct a preliminary probe into the mishap
The pilot had made a distress call but crashed before it could receive any help.
Eyewitnesses also said that the pilots of the plane chose to land in the spot to minimise casualties.
The plane had taken off for a test from the Juhu airport.
It said that the flight was on the wrong path and was on the way to the Mumbai airport's domestic terminal to land.
It was earlier said that the plane belonged to the Uttar Pradesh government.
However, the UP government has now clarified that the plane had been sold
"The chartered plane which has crashed (in Mumbai's Ghatkopar) does not belong to UP govt. The state govt had sold it to Mumbai's UY Aviation. The deal was done after the plane had met with an accident in Allahabad: Principal Secretary Information Avnish Awasthi told ANI.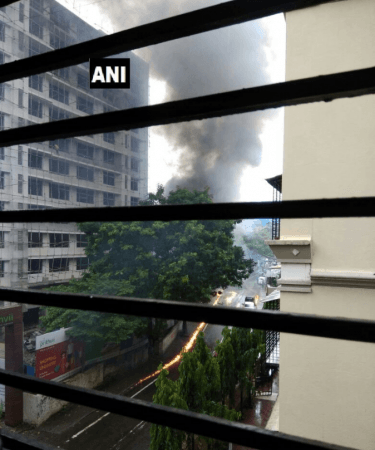 The plane is said to have crashed while landing and all the four people onboard have been reported dead.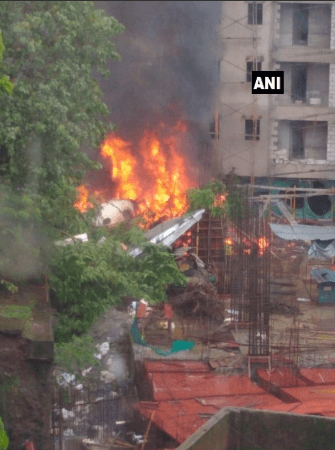 The police are also on the spot
The plane is said to have gone down around 1.35 pm with a loud thud, after which it burst into flames.
The chartered plane crashed near Jagruti building at Sarvodaya Nagar in Ghatkopar, reported ANI.
Construction work was underway at the spot.
It is also being said that the toll may rise.
A bulldozer has also been deployed to check through the debris.
Ghatkopar
Ghatkopar is a suburb in eastern Mumbai. It is a residential area, which boasts of several Gujarati families.
This is a developing story