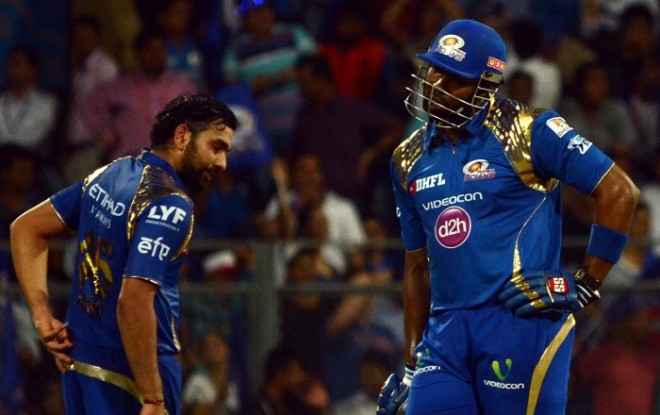 Mumbai Indians did their best to drop their final game at the Wankhede Stadium in IPL 2016 in the field, before Rohit Sharma did what he does quite often against KKR – score runs. The Mumbai Indians captain was at his brilliant best for a second time this season against the Kolkata Knight Riders, guiding MI to a convincing six-wicket win.
Put in to bat first, Gautam Gambhir fired another half-century as KKR posted 174/5 on a nice batting wicket at the Wankhede. With the dew coming in to play, Rohit (68 n.o., 49b, 8x4, 2x6), who struck a match-winning 84 in the reverse fixture earlier this month, in menacing mood and Kieron Pollard (51 n.o., 17b, 2x4, 6x6) at his ridiculous six-hitting best, Mumbai Indians eased to the target, finishing on 178 for four in 18 overs.
While Parthiv Patel, coming off a match-winning half-century in their last match, fell early – caught in the slips off Umesh Yadav in the first ball of the second over – Rohit and Ambati Rayudu forged a brilliant second-wicket partnership worth 59 in just 5.4 overs. That quick partnership allowed the Mumbai Indians some breathing room in the chase, and while the KKR spinners, despite the dew, pulled things back a little after the Powerplay, picking up the wickets of Rayudu (32, 20b, 5x4, 1x6) and Krunal Pandya, with Rohit staying at the crease, MI were always the favourites.
That pendulum swung a little the other way when the tailor-made-for-such-situations Jos Buttler (15, 15b, 2x4) was dismissed by Sunil Narine, with the Englishman caught on the boundary brilliantly by Chris Lynn, who pulled off a catch that is so common now, where the fielder throws the ball up before crossing the ropes before coming back in and completing the catch again.
However, Rohit continued on his merry way and with Kieron Pollard packing a punch after coming in as well, the equation with five overs to go read -- 49 off 30 balls.
With the pressure on, Gambhir, surprisingly, decided to give former Mumbai Indians man Rajagopal Satish the ball, and Pollard said "thank you very much," smashing three sixes in the over to bring the equation down to an easy peasy 26 from 24 balls.
Pollard, playing in his 100th IPL match, smashed a few more sixes from there, finishing the match off with three maximums in a row to give MI a victory in style.
The first innings was all about the fast start from the openers and the numerous drops from the fielding side. T20 sides nowadays pride themselves on their fielding, knowing a catch here or a boundary saved there can make all the difference between victory and defeat. On Thursday, MI's performance in the field was so bad that the fielding coach Jonty Rhodes would have wanted to dig a hole, dive in and not come out for a long while.
Catches were dropped, runs were leaked, stumpings were missed, and then some more catches were dropped.
The first blemish came in the final ball of the second over, when Mitchell McClenaghan, after bowling a really nice short ball to force a mistake from Gautam Gambhir, grassed a simple catch. Gambhir took full advantage of that mistake to go on and score another half-century, and with it setting KKR on their way to a strong total.
Gambhir's opening partner Robin Uthappa also got a life, when MI wicketkeeper Parthiv Patel failed to gather the ball after the ball rolled to him off Uthappa's pads with the batsman well out of his crease. Those mistakes allowed KKR to put on 69 runs in under eight overs for the opening wicket, and while Uthappa (36, 20b, 1x4, 2x6) and Shakib Al Hasan fell in the space of a few balls, KKR stayed on course for a big score.
The KKR skipper was the anchor, as always, just going up a gear once he reached his 40s, and once Gambhir fell in the 14th over, off another short ball from McClenaghan, the likes of Suryakumar Yadav (21, 17b, 2x4), Andre Russell (22, 16b, 3x4), Yusuf Pathan (19 n.o., 8b, 4x4) and Chris Lynn (10, 10b), aided by a couple of drops from Tim Southee, off consecutive balls, did their bit to take the Kolkata Knight Riders to 174.