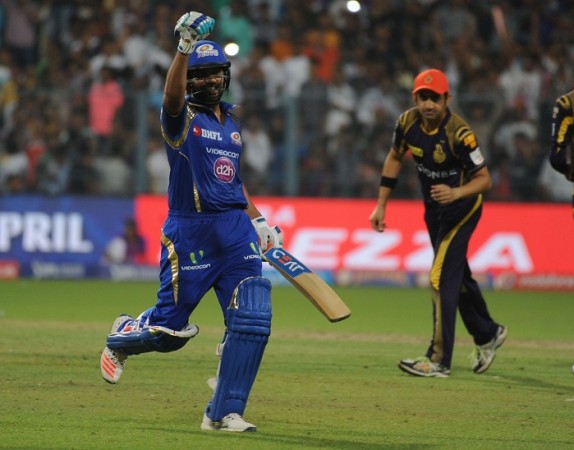 The Mumbai Indians did not enjoy themselves too much in their first match of IPL 2016 at home, so they will hope for a bit more joy when they play the Gujarat Lions at the Wankhede Stadium on Sunday. MI and GL picked up impressive wins in their last matches, so confidence should not be a problem for either side.
Here is a prediction of how the match might go, depending on who wins the toss.
If Mumbai Indians bat first: In the first match of IPL 2016, Rohit Sharma caught everyone by surprise by choosing to bat first after winning the toss, even if MI have done well in the past defending scores. Having changed that tactic, successfully too, in the match against KKR in Kolkata, it will be a safe assumption to make that if MI end up batting first in this game, it will be because Suresh Raina won the toss.
Rohit, coming off a match-winning knock, gets off to a solid start, with Martin Guptill smashing the bowling to bits at the other end. If it is Parthiv Patel who opens, MI will get off to a decent start, of around 45 in the first six overs. But, if it is Guptill, the New Zealander makes a statement on his MI debut, leading the home team to around 60 in the Powerplay overs. MI lose their way a little bit, however, in the middle overs, with Jos Buttler falling early as well, leaving Kieron Pollard and Ambati Rayudu to rescue the situation, which they do pretty well to take their side to 180.
In reply, the Gujarat Lions go smash-bang courtesy Brendon McCullum, but Aaron Finch, after two half-centuries, falls early. However, Suresh Raina finds his old IPL touch, putting on a strong partnership with his former CSK teammate, to leave the middle order requiring around 50 in the final six overs. They knock those runs off comfortably.
If Gujarat Lions bat first: McCullum again starts in a blaze of glory, as the New Zealander forges a partnership with Raina again, after Finch's dismissal. Dinesh Karthik comes in and continues the momentum, before Dwayne Bravo and James Faulkner smash a few to take GL to 190-plus.
Having made a target of 188 look easy against KKR, MI start their innings off with confidence, with Rohit leading from the front. Martin Guptill/Parthiv Patel fall early, but the captain keeps them in the chase, with Hardik Pandya scoring a quickfire 30. Jos Buttler then comes in and in an encore, Rohit and Buttler, with the dew coming into play, take advantage of the situation to guide MI to victory.