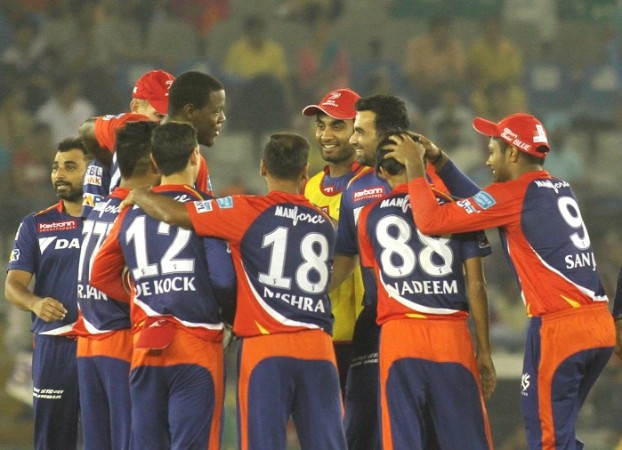 Delhi Daredevils will want to move closer to that elusive IPL 2016 playoff spot. They have 12 points from 10 matches, and it should not be a difficult task for them to make it to the final four, considering the way they have played in this edition of the IPL.
Mumbai Indians on the other hand face a crucial situation where they will want to pick up four points from their remaining two games and qualify for IPL 2016 playoff stages. The problem with the defending champions is they have lost both their "home" games in Visakhapatnam by huge margins as they have not been able to adapt to the conditions and the wicket. They really need to ramp up their performance if they will want to go ahead in IPL 2016.
Let us take a look at how the game between Mumbai Indians and Delhi Daredevils might transpire:
If Mumbai Indians bat first: Rohit Sharma and Martin Guptill made a cautious start to their innings. They really are not going for those risky shots as they are aware of the importance of their wickets. But Rohit is yet again dismissed after a decent start by Amit Mishra. Mumbai Indians are in trouble as they do not want to reveal their middle-order too early again. Mohammed Shami sends the stumps for a cartwheel as Ambati Rayudu's poor run of form continues. Nitish Rana and Guptill steady the ship, but not for long, as Mishra strikes again and this time it is the big wicket of the New Zealander. Kieron Pollard and Rana stay put till the end and ensure that Mumbai Indians put up a decent total on the scoreboard. They finish with 147/4 at the end of 20 overs.
On a wicket that has been on the slower side, 148 seem to be a challenging total. Quinton de Kock and Mayank Agarwal try to take on the bowlers but McClenaghan claims two in two in the third over. Harbhajan Singh joins the party and removes Sanju Samson. Delhi Daredevils are in all sorts of trouble. Karun Nair and JP Duminy add 65 runs together and steady the run chase. But Jasprit Bumrah claims the wickets of Nair in the 16th over and it is time Chris Morris to deliver with the bat. Duminy turns into a meagre spectator at the other end as Morris is playing some glamorous shots to finish things of early. The Daredevils win by five wickets and seven balls to spare.
If Delhi Daredevils bat first: De Kock and Agarwal get off to a flier. But Bumrah sends both the batsmen back in the same over. Sanju Samson and Karun Nair take their innings forward until the 13th over when the Daredevils have 101 runs on the board. Krunal Pandya foxes Nair and is rewarded with a stumping. Samson too is run out the next over. Duminy tries to hoik one over the mid-wicket and top-edges one to the mid-wicket fielder. Morris and Rishabh Pant strike some might blows towards the end and take Delhi Daredevils to a total of 162/6.
Rohit Sharma knows he has to bat through till end the end of the chase if they are to collect two points from this match. Rohit is playing sensibly and allows Guptill to take on the attack. Mumbai Indians are cruising at the end of the first six overs and Zaheer needs to do something about it. Thus, he introduces his strike bowler Amit Mishra in the seventh over and it pays off. Guptill is dismissed and the scoring rate comes down drastically. Rohit has not been able to time the ball properly and in the meanwhile they are losing wickets from the other end. Rayudu, Rana and Pollard are dismissed in quick succession and everything is on Pandya and Buttler's shoulders. The duo guide Mumbai Indians to their much-needed victory and they win it by four wickets and two balls to spare.