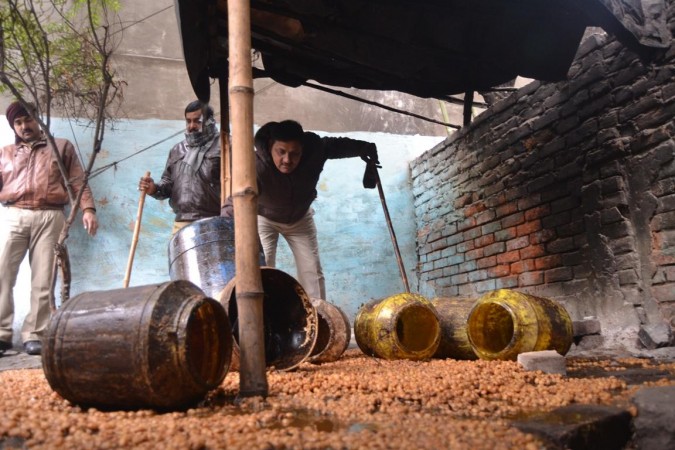 The death toll due to consumption of toxic liquor in Mumbai's Malwani area reached 94 on Sunday.
At least 45 others are undergoing treatment in various government and private hospitals in Mumbai, police said, according to IANS report.
Those who consumed toxic alcohol were from Laxmi Nagar slum in Malwani in suburban Malad. They had on Wednesday evening consumed illegally-made toxic country liquor.
They were admitted to various nearby hospitals on the same night after they started complaining of abdominal and chest pain. At least 35 people had died as of Friday, while others were being treated.
The Mumbai police crime branch have so far arrested 20 people, including Raju Hanmanta Pascar, 50, Donald Robert Patel, 47 and Gautam Harte, 30, in connection with the hooch racket, while a manhunt has been launched to nab four others, believed to be the kingpins of the illicit liquor racket.
Among the four is Akka, the woman who allegedly supplied the poisonous liquor to the Laxmi Nagar slum dwellers. The toxic liquor was allegedly smuggled into Mumbai from Thane, where it is manufactured.
"They manufacture it there and smuggle it to Mumbai in rubber tubes. Once here, it is supplied to these illegally running shops and served in glasses or bottles," The Hindu quoted an Excise department official as saying.
The police are also conducting house-to-house search in the slum to check if anyone else in the area had consumed the toxic alcohol. They have identified eight people so far and shifted them to hospital.
This is the first major incident in 11 years in Mumbai. In 2004, at least 87 people were killed in two different cases of toxic alcohol consumption.