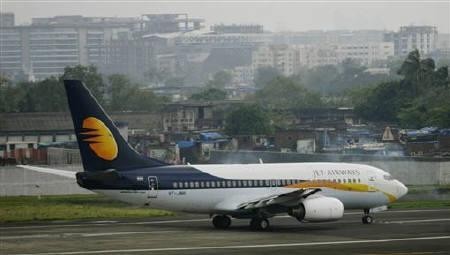 A Jet Airways flight was forced to abort its take-off from the Mumbai airport after parachutes were reportedly seen in its path on Saturday, in a grave security breach.
It has now been reported that the parachutes were remote controlled, and that the Prime Minister's Office has asked the Indian Air Force and the Indian Navy, along with the Intelligence Bureau and the Mumbai police, to investigate the incident.
IAF sources said the chutes were apparently radio-controlled, the Mumbai Mirror reported.
The five parachutes were reportedly moving along the Mumbai airport airspace in a tight formation, and the fact that they were moving against the wind direction pointed at the possibility that they were remote-controlled.
"Spotted at approximately 150 feet, the parachutes were seen climbing despite the cross winds, indicating they were likely to have been controlled remotely," an ATC official told Mumbai Mirror.
The pilot of the Jet Airways flight 9W 323 that was to fly from Mumbai to Ahmedabad on Saturday evening first noticed the objects on the path, and alerted authorities.
The pilot had to abort take-off, while an inbound Indigo flight from Kolkata was directed to make a go-around.
However, The Indian Express has reported that the unmanned flying objects(UFOs) could merely be Chinese lanterns that may have blown over from the nearby Juhu beach.
"Until investigations are complete, we cannot confirm anything with certainty. However, the possibility of it being a Chinese lamp could not be ruled out," Joint Commissioner of Police (Law and Order) Deven Bharti was quoted saying by the newspaper.
"The pilot who spotted 'some orange-yellow luminous flying objects' would have mistaken them for paragliders," another official said.