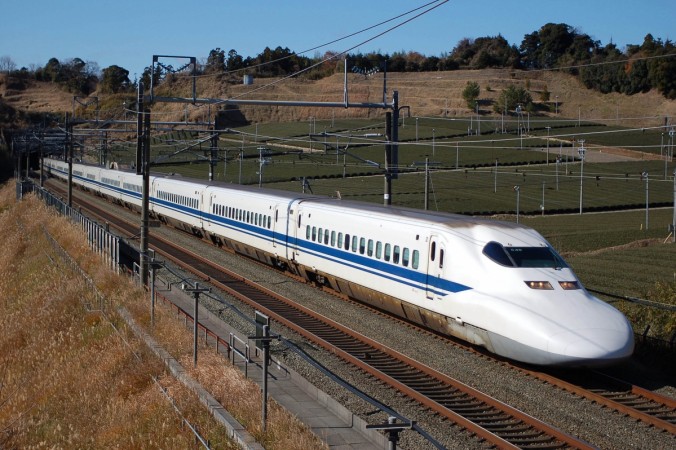 The Mumbai-Ahmedabad bullet train project is expected to be operational in the next six years. The rail fares for the bullet train connecting the two cities would be less than airfares.
The bullet-train project is estimated to cost about Rs. 98,000 crore. It is believed that when the bullet train project becomes operational, the distance of 508 kilometres between Mumbai and Ahmedabad, would be completed in two hours time, Press Trust of India reported.
Railway Minister Suresh Prabhu made this announcement during question hour in Lok Sabha on Wednesday. The rail minister said the hi-speed train project would be cost-effective.
Last year, during Japenese Prime Minister Shinzo Abe's visit to India, it was announced that Japan will provide $12 billion soft loan to build India's first bullet train. The deal involved building a high-speed train line between Mumbai and Ahmedabad.
The bullet train project had hit a roadblock when the Maharashtra government had objected to allocating 0.9 hectares of Bandra Kurla Complex (BKC) land in Mumbai to the Indian Railways for the bullet train project.
According to the state government officials, building the underground station would result in a loss of Rs. 10,000 crore revenue. Maharashtra Chief Minister Devendra Fadnavis and officials of the MMRDA (who own the BKC plot) had earlier bluntly refused to give away the land to the Indian railways.
Last month however, the state government withdrew its objection.
During the Lok Sabha session, Prabhu further added that the Indian railways have identified nine-corridors of feasibility of semi-high speed rail. These routes include: Delhi-Chandigarh, Chennai-Bengaluru-Mysore, Delhi-Kanpur, Nagpur-Bilaspur, Mumbai-Goa, Mumbai-Ahmedabad, Chennai-Hyderabad and Nagpur-Secunderabd.