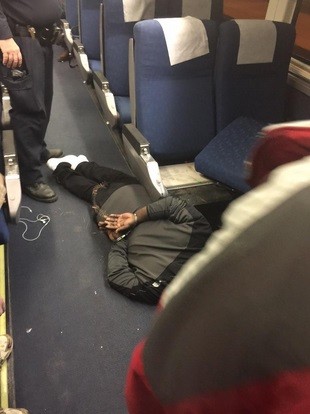 At least four people were injured in a multiple stabbing crime on a train in Michigan on Friday before the attacker was apprehended.
Three passengers and the train conductor were stabbed by a man on an Amtrak train in the city of Niles.
A passenger in an adjacent compartment took a photo of the attacker handcuffed and lying on the floor of the train, which he posted on Twitter.
"Crazy world we live in. Some man just stabbed 4 people one car away from me on the train," Chris Maynard tweeted.
The attack took place on a train that runs between Chicago and Port Hurtan in Michigan, when the train was at a station in Niles, Reuters reported.
Crazy world we live in. Some man just stabbed 4 people one car away from me on the train pic.twitter.com/DVTdiVJ5w4

— Chris Maynard (@Chris__Maynard) December 6, 2014