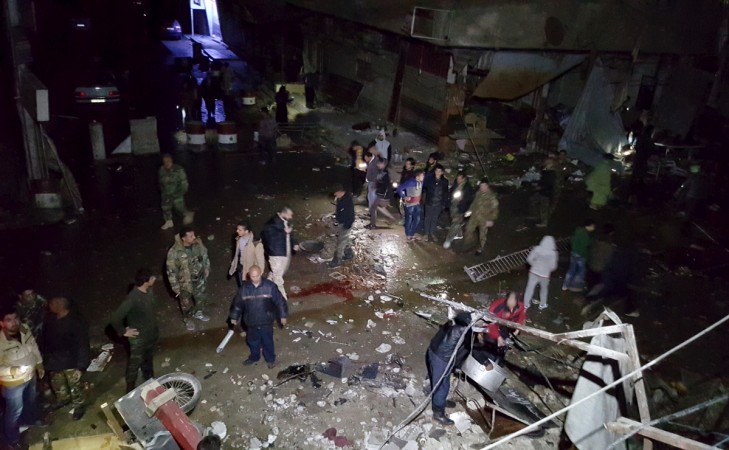 A series of bomb attacks in Damascus and Homs by the Islamic State group jihadists reportedly killed at least 142 people, Sunday, Feb. 21.
The attacks were carried out outside a Shia shrine in Damascus, while two suicide car bombs exploded in Homs' Al-Zahraa enighbourhood. At least 46 people, including 28 civilians, were killed, Syrian Observatory for Human Rights reports.
The pro-government district of al-Zahraa is inhabited by the people of the Alawite sect, to which Syrian President Bashar al-Assad belongs.
"The repeated terrorist attacks in Homs target the strong internal front that is standing by the side of the Syrian army making victories on various fronts," Homs Governor Talal al-Barazi was quoted as saying by Syrian news agency SANA.
At least three attacks were carried out in al-Sayyida Zeinab, Damascus, which killed 83 people, and wounded 178, according to SANA. In Homs, the two car bombings killed 34, reports SANA. However, Agence France Presse reported 142 deaths.
The two blasts in Homs caused damage to public property, houses nearby and buses.
In the Damascus attack, a car bomb was initially detonated, after which two suicide bombers wearing explosive belts detonated themselves.
The Islamic State group has claimed responsibility of the Damascus attack.
"The fact that these terrorist attacks coincide with the talk about a cessation of hostilities in Syria, proposed recently in Munich meeting, stresses the futility of this proposal," SANA quoted a statement by the People's Assembly of Syria as saying.
The Cabinet also condemned the attack. Syrian Prime Minister Wael Halaqi said that these attacks target "the will of work and production of the Syrian people."
Meanwhile, a "provisional agreement" has been reached with Russia for a partial ceasefire, said US State Secretary John Kerry.
"We have reached a provisional agreement , in principle, on the terms of the cessation of hostilities that could begin in the coming days," Kerry was quoted as saying by AFP.