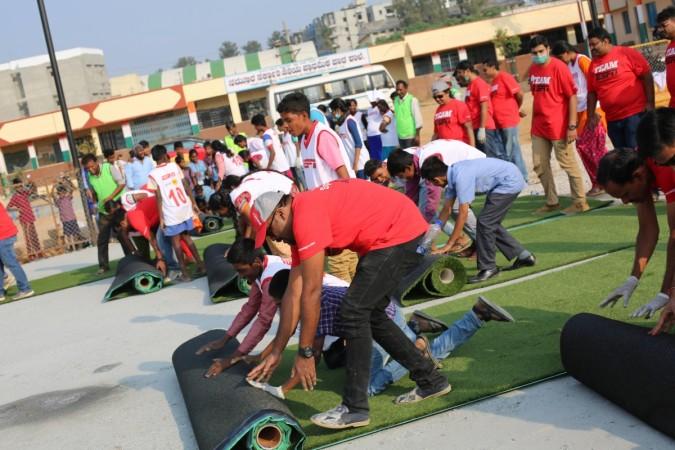 Community leaders, local residents, and youth gathered in Bandepalya, Bangalore, on Thursday to participate in the opening of a new multifunctional sports court dedicated to the local community and its residents.
The global project, led by ESPN, has seen community spaces created across Latin America. Bangalore is the first city in Asia to benefit from ESPN's safe spaces initiative.
The court and surrounding area was refurbished with the help of community members along with ESPN and Disney employees. It will be home to ongoing development programs for young people in the community aimed at teaching life-skills and empowering them to fulfil their potential, all through the power of sports.
The program will be delivered by Magic Bus, a non-profit organisation with its roots firmly set in India. Magic Bus will strive to equip children and young people of Bandepalya with the essential skills and knowledge to be able to break the cycle of poverty, take control of their lives and become active members of their community.
These life skills – ranging from education and gender equality to health and employability – will be taught by youth leaders from within the community, with support and training from Magic Bus' unique mentorship program.
"At ESPN we believe that sports has the ability to transform lives, and we are proud to be able to support and empower communities like Bandepalya to unlock the benefits that sports offer," said Russell Wolff, Executive Vice President and Managing Director, ESPN International.
"This initiative is another way that ESPN is contributing towards the larger goal of using the power of sports to make a difference in the communities we are a part of," added Ramesh Kumar, Vice President, ESPN India and South Asia.