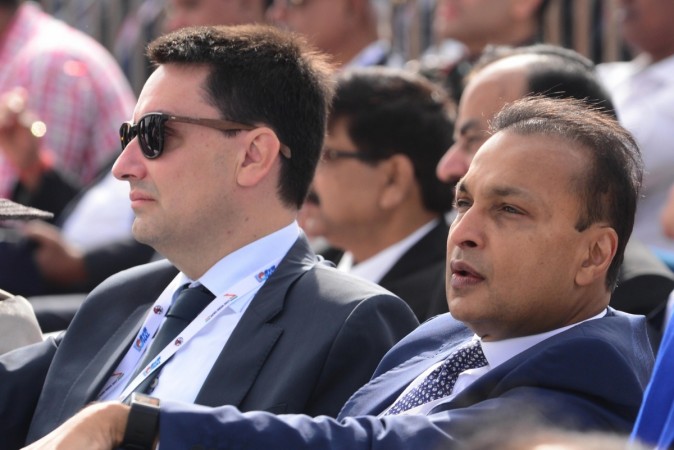 Anil Ambani, chairman of Reliance Communications, won't be drawing salary or commission from the loss-making entity that is facing stiff competition from other telecom service providers, including the recent-entrant Reliance Jio owned by his brother Mukesh Ambani.
The news comes amid a persisting crisis Reliance Communications is facing in the wake of piling debt, downgrade by rating agencies and mounting losses. Anil Ambani's net worth was estimated at $2.7 billion by Forbes this April; his brother Mukesh's net worth was a whopping $29.9 billion.
For the fourth quarter (Q4) ended March 2017, Reliance Communications posted net loss of Rs 966 crore as against a profit of Rs 90 crore in the corresponding period last year. Income fell sharply to Rs 4,524 crore for Q4 from Rs 5980 crore for the year-ago period.
The company's debt was around Rs 45,000 crore as of March 31, 2017.
Reliance Communications (RCom) is about to sell its towers business to Canada's Brookfield Infrastructure Group for Rs. 11,000 crore and wireless business to rival Aircel. The two deals will cut its debt by Rs 25,000 crore, according to the company and has secured time till December 2017 to repay the amount.
Post merger with Aircel, RCom will own 50 percent stake in the new venture Aircom.
The share price of RCom has been falling sharply over the past months, from Rs 38.9 as of April 3 to Rs 18.30 on June 14, both due to the losses and downgrading of its debt by rating agencies CARE, ICRA and Moody's, citing the company's financials.
"The reasons for these revisions include RCOM's weak operating performance, high leverage, the weak internal cash flow generation against sizeable debt servicing obligations and delays in debt servicing by the company," Reliance Communications said in a regulatory filing to the BSE on Tuesday, May 30.
Other companies in the Anil Ambani fold, referred to as ADAG, include Reliance Capital that has interests in mutual fund, insurance and financing, and Reliance Defence and Engineering.