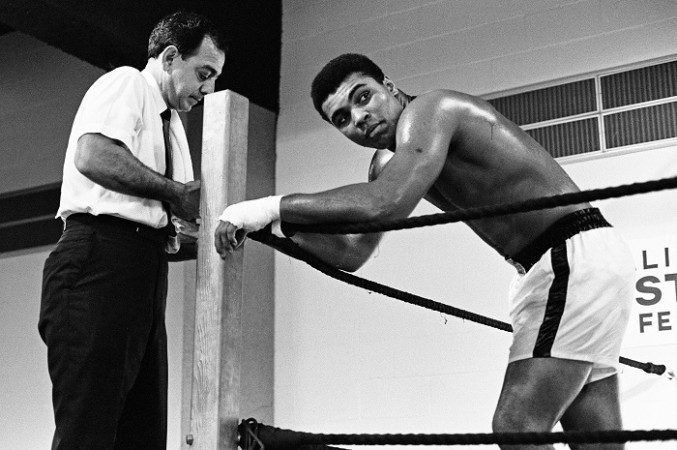 Muhammad Ali is to boxing what Michael Jordan is to basketball and Tiger Woods to golf. A man, who, almost single-handedly, made his sport a worldwide phenomenon.
Athletes like an Ali, or a Jordan or a Woods or an Usain Bolt or even a Sachin Tendulkar cannot just be judged by their career figures – and yes, those figures will be pretty great as well – there is that aura they brought to the sport, a certain swagger, without being overly arrogant, that swayed fans towards them, instantly making them and the sport a lot more popular.
Ali, who died in a Phoenix hospital at the age of 74, had that ability to draw people towards him, with his quotes and interviews worth a watch even now. "Float like a butterfly, sting like a bee" – after all, who can forget that quote, made before the heavyweight championship fight against Sonny Liston in 1964, and when he was known as Cassius Clay, before his conversion to Islam. That is synonymous with Ali, the man who made the heavyweight division of professional boxing into one of the most revered disciplines of all-time.
His "Rumble in the Jungle" with George Foreman will, forever, go down as one of the greatest fights of the sport, a fight that took Ali into a previously unknown, exalted level. All in all, Ali went on to win the world heavyweight championship three times in his career, but, his career will and should not be judged by the amount of times he had that belt hanging around his waist.
Ali transcended the sport of boxing, becoming a celebrity and bringing such joy and humour to a world that desperately needed it. Having said that, however, Ali was not short of controversies, with the biggest one coming when he refused to be inducted into the armed forces for the Vietnam War. That decision, as noble as it might have been, cost Ali three-and-a-half years in the ring, and that too during his prime.
However, once his suspension from boxing was overturned by the Supreme Court he came back looking to be better than ever, before losing to Joe Frasier in what was dubbed as the "Fight of the Century."
Then came the "Rumble in the Jungle", the most famous of fights, set in Kinshasa. Up against a formidable Foreman, who looked near unbeatable, Ali showed why he was not just about talking the talk, but as much about walking the walk as well, by pounding the big man intelligently, before scoring a knockout win.
The other famous Ali fight was his third against Frazier, dubbed the "Thrilla in Manila" a monumental contest, which was finally stopped in the 14th round, after both of Frazier's eyes were shut.
Slowly, but surely age caught up with the great man, with Ali eventually finishing his career in 1981 with a loss to Trevor Berbick.
Three years later, Ali was diagnosed with Parkinson's disease – a common problem for boxers, owing to them continually getting hit on the head -- and from then on, his life would be defined by his battle with the debilitating ailment.
The enthusiasm and joie de vivre – and a bit more of the controversial statement -- would never end, though, with Ali showing just why, time and again, he is considered the greatest of all-time.