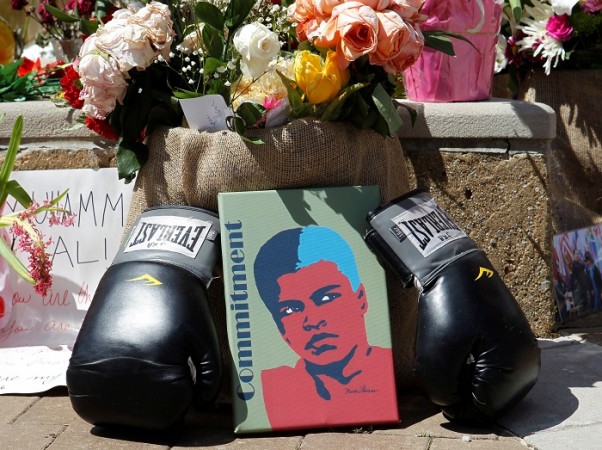 Muhammad Ali's body will be laid to rest on Friday, with the world, as he wanted it, watching and paying tribute to one of the greatest sportsmen of all-time. A public service will be held at the KFC Yum! Center in Louisville, Kentucky, with thousands of people from around the world attending.
All of 15000 people are expected to attend the service, while the rest can watch it on their screens or live stream it online.
Ali died last week with a respiratory issue complicated by his Parkinson's disease. He was 74. The entire week that has followed has been filled with tributes to the boxing legend, which just goes to show how revered he was and continues to be.
The great human being that he is, Ali wanted the entire world to be able to watch his funeral, and with the service thrown open to the public, as much as 15000 tickets have been sold.
Several big names will attend Ali's funeral service as well, including former president Bill Clinton, actor and comedian Billy Crystal and sports caster Bryant Gumbel. Famous actor Will Smith, who played the boxer in the move "Ali", will be one of the pallbearers along with former heavyweight champion Lennox Lewis.
At the end of the funeral service, Ali will be laid to rest in a private ceremony at the Cave Hill Cemetery.
Prior to the funeral service, Ali's body will pass through his hometown, including his home as a child.
Ali himself planned the entire funeral, according to his spokesman Bob Gunnell. "This began with 'The Champ' a decade ago," Gunnell told reporters. "As he convened the meeting, he said, 'This is what I would like to see, this is the type of programme that I would like to see, that is inclusive of everyone, where we give as many people an opportunity that want to pay their respects to me.'"
Where to Watch Live
The Muhammad Ali funeral service is scheduled to begin at 2 p.m. ET (7 p.m. BST, 11.30 p.m. IST). Ali's body will be carried around in a motorcade from 9 a.m. ET (2 p.m. BST, 6.30 p.m. IST).
ESPN, TV One, Bounce TV and CBS will all broadcast the funeral service live on TV in the US. The online live stream option is on Watch ESPN and CBS Sports.
In London, Ali's funeral service will be live streamed at the O2 Arena, with the coverage beginning at 7 p.m. BST.
Viewers from around the world can watch the funeral via live streaming online on AliCenter.org and HERE.