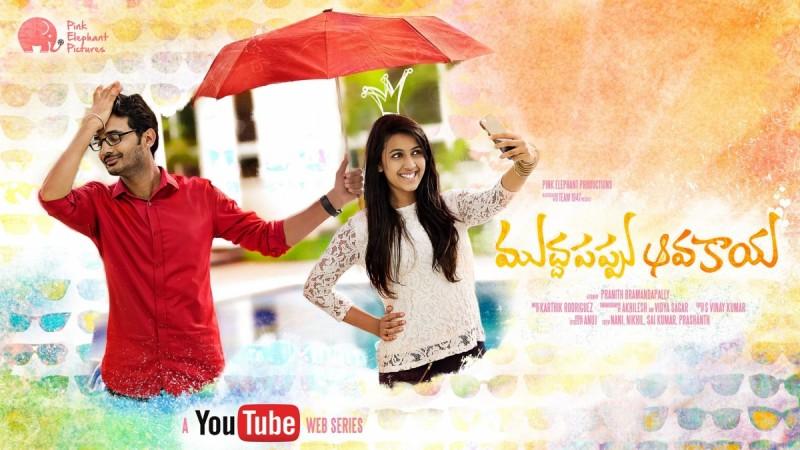 The three episodes of Niharika Konidela's "Muddapappu Avakai", the first ever Telugu Web Series, have been viewed by 1.74 million times on YouTube and are set to cross the mark of 2 million.
The actress in the making, Niharika Konidela, has chosen a safest route for her acting debut and that is the web series titled "Muddapappu Avakai". Directed by Pranith Bramandapally, the web series deals with the journey of Asha and Arjun, who find love before an arranged marriage. Niharika and Pratap have played the couple in the series.
"Muddapappu Avakai" features Varsha, Aditi, Harsha, Mohan, Dhana Laksmi, Leerisha, Hussain Sha Kiran, Sanjeev, Sanjana and Vindya in the supporting cast. Vidyasagar and Akhilesh have cranked the camera, while Karthik Rodriguez composed music for the web series, which has been produced by Pink Elephant Pictures. Anuj Nair has handled the VFX works of the series.
The makers of "Muddapappu Avakai" have already released the three episodes on the official YouTube channel of Pink Elephant Pictures. They have been watched 1,747,136 times together as of at 5.00 pm on Sunday. They have got 13,331 thumbs up, 769 thumbs down and 1,357 comments, most of which are encouraging response for the team.
Pranith Bramandapally is inspired by the web series of the production houses like ViralFever, YFilms and AIB. Like them, he is intended to create hit web series in Telugu. "I really liked Permanent Roommates (by ViralFever). I was wondering, what if I started the trend in Telugu and create a market for it?" The Hindu quoted the director as saying
Pranith has all praises for Niharika. "The idea to make a web-series was Niharika's and we co-founded Pink Elephant Pictures. Later, we sat down together to develop the plot, such that it'll appeal to youth and other ages too. The plan to cast her in it came only somewhere between. We realised, she was so close to the lead character Aasha. She was really forthcoming in the entire process," he added.
Niharika Konidela is the daughter of Nagababu, who is brother of Chiranjeevi and Pawan Kalyan. She is the first girl from the Mega family to opt for an acting career. The speculations about her debut started six months before her brother Varun Tej's first film "Mukunda" was released in theatres in 2014.
It was rumoured that she would star alongside Akhil Akkineni in a short film, which was meant to garner attention for the actor before making debut with "Akhil" [Read more]. But it did not turn out to be true. Later, it was reported that she had signed two films with director Rama Raju and filmmaker Ayodhya Kumar [Read more]. However, these two projects are also yet to be announced officially.
Here are the vidoes of three episodes of the web series "Muddapappu Avakai":