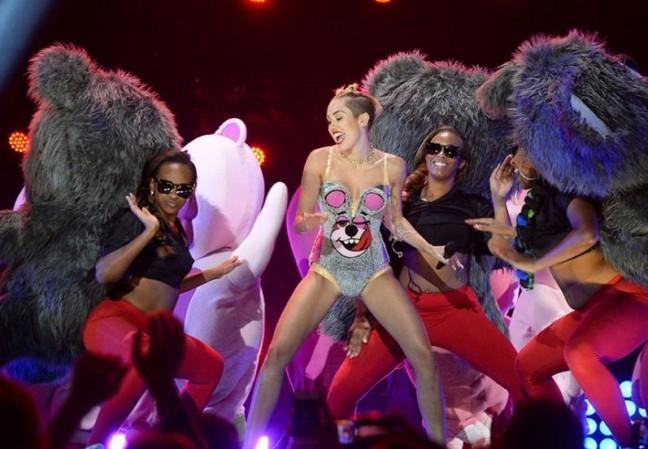 The pop culture event of the year, MTV Video Music Awards (VMAs) is all set to enthrall audiences again with the celebrity performances, winners and its share of controversies. Since the MTV VMAs began there have been several controversies that still remain fresh.
Take a look at some of the top controversies before MTV Video Music Awards (VMAs) takes place on Sunday, August 27.
Miley Cyrus and her Twerking in 2013
In 2013, singer Miley Cyrus set the internet on fire after she twerked and licked everything on the MTV VMAs stage. Her performance with Robin Thicke caused a sensation. She opened up about her famous twerking performance and said Thicke was aware as he was a part of the rehearsals, but he acted like he was clueless about the act.
"He acted like he didn't know that was going to happen. You were in rehearsals! You knew exactly what was going to happen. And he was actually the one that approved my outfit, so I thought that was very funny. He wanted me as naked as possible," Miley told the New York Times.
Britney Spears-Madonna-Christina Aguilera kiss in 2003
Madonna, Britney Spears and Christina Aguilera's performance at the 2003 MTV MVAs were one of the controversial not because of their performance in a wedding dress, but because of the kiss. Madonna kissing Britney and Christina became a sensation in 2003.
Kanye West interrupting Taylor Swift
It was one of the best moment of Taylor when she won the award in the Best Female Video category, but Kanye West made it one of the infamous incident of VMAs in 2009. Just when Swift came on stage to accept her award and thank everyone, West interrupted her to say Beyonce deserved the award.
"Yo Taylor, I'm really happy for you, I'll let you finish, but Beyoncé has one of the best videos of all time. One of the best videos of all time!" West said after interrupting Swift.
Lady Gaga dons a meat dress at the 2010 VMAs
Lady Gaga's 2010 VMAs' dress was one of the most controversial ever. The 40 pounds of Argentinian beef dress by designer Franc Fernandez made an artistic statement. "Don't Ask Don't Tell" policy and against governmental restrictions on gay soldiers' rights. "It has many interpretations, but for me this evening, it's 'If we don't stand up for what we believe in, if we don't fight for our rights, pretty soon we're going to have as many rights as the meat on our bones'," she told Ellen DeGeneres in an interview.
Diana Ross meets Lil Kim on stage in 1999
Diana Ross just couldn't control her excitement when she saw Lil Kim wearing pasties at the VMAs in 1999. When Ross got on stage, she hugged Kim, later lifted Kim's arm and jiggled her left boob for the camera.
When Nicki Minaj called out Miley Cyrus at the 2015 VMAs
While the award show is about accepting awards and thanking people, Nicki Minaj confronted the host Miley Cyrus at VMAs 2015. During the acceptance speech for the Best Hip-Hop Video award, Minaj asked Cyrus about her comment she made in The New York Times.
During the acceptance speech for hip-hop video of the year, Nicki Minaj confronted host Miley Cyrus for comments she made about the rapper in The New York Times. "Back to this bitch who had a lot to say about me the other day in the press. Miley, what's good?" Minaj asked Cyrus, to which the host replied, "We're all in this industry. We all do interviews, and we all know how they manipulate shit. Nicki, Congratu-fucking-lations."
Michael Jackson and Lisa Marie Presley Kiss
Michael Jackson kissing Lisa Marie Presley was one of the craziest moments in VMAs history. In 1994, the King of pop and his then wife Lisa took to stage and shared an awkward kiss. The couple came on stage holding hands, Jackson took the mike and said, "Just think, nobody thought this would last." He then kissed his wife Lisa.
Fiona Apple calls out the industry for their bulls**t
In 1997, Fiona Apple arrived on stage to give her acceptance speech, but instead, she shocked everyone when she giving a middle finger to the entire music industry. "Everybody that's watching this world -- this world is bullsh-t. And you shouldn't model your life about what you think that we think is cool, and what we're wearing and what we're saying. Go with yourself," she concluded.
MTV VMAs 2017 will take on Sunday, August 27, in the US, and in India, it will be aired on Vh1 on Monday, August 28, at 6.30 am.