7:44 pm - Girls are jumping and falling all over the place in this Bae Watch task. But this final fall of Samyuktha was brutal as she fell directly on her back and head.
7:38 pm - Girls are pulling boys clothes which have been hanged 20 feet high above the ground. And they all seem to be confused whose clothes they have been pulling out.
7:36 pm - As boys are less and girls are more in the villa, whoever gets the 5 boys in today's task, only those 5 girls will perform in next week's Test Your Bond challenge, leaving others in the danger zone.
7:35 pm - All the girls will have to do today is that they will have to write a name whom they know well and then bring their belongings from the villa to win the game.
7:34 pm - Today's Bae Watch session begins. And it is named Man-hunt as all the boys were made to stay at a remote location.
7:33 pm - Gaurav tells Anushka that she and Kabir have been switching ideal matches to be in the game and it will have nothing for him in the end as they might kick him out of the way.
7:32 pm - Anushka now finds solace in Gaurav. She asks him whether he will perform with her.

7:31 pm - Anushka is not happy with Kabir choosing Mehek. She tells him that he had told her that he will never leave her but now he just did.
7:30 pm - Kabir tells Anushka that he wants to win the show with her and will dump Mehek whenever he will get a chance. But Anushka says, "You say something, you act something."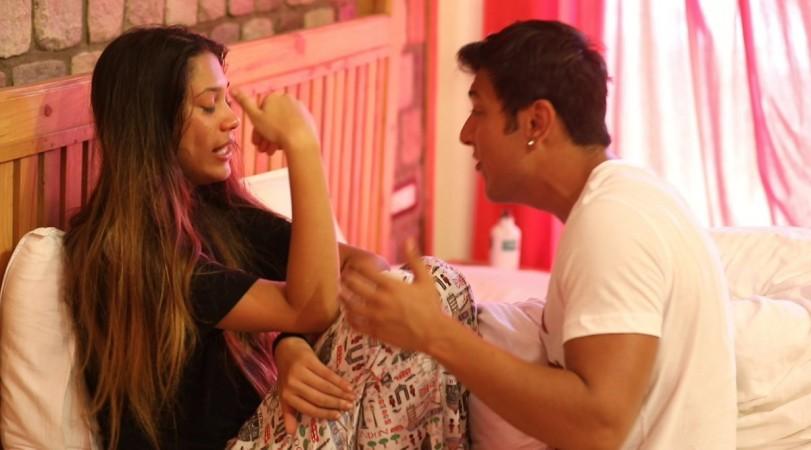 7:29 pm - "Do you remember the conversation we had, then with what face are you telling me now?" Anushka tells Kabir.
7:27 pm - Back in the villa, Anushka cries out vehemently in front of Kabir as her connection has become an ideal match of Mehek who is Kabir's ex-girlfriend.
7:25 pm - Anshuman and Roshni choose to dump Simba because it may work as an advantage for them.

7:24 pm - Now Simba and Maera will face the Oracle. And according to the calculations, they are not an ideal match and now the two are in danger zone.
7:22 pm - Samyukhta thinks that Anushka can never get into Roadies, while Anushka retaliates saying that she didn't win roadies and asked her to shut her mouth.
7:20 pm - As Shruti says that she is not happy with Kabir and Mehek becoming an ideal match, a heated argument breaks out between Samyuktha and Anushka.
7:18 pm - According to Oracle's calculations, Mehek and Kabir are an ideal match.

7:15 pm - Anushka also chose Kabir and Mehek to face the Oracle. Simba & Maera and Kabir & Mehek will be the two couples facing the Oracle today.
7:10 pm - As Roshni and Shruti won the wrestling task, they get a chance to save one one splitsvillan. While Handa saved Samyuktha, Shruti saved Gaurav from elimination.

7:09 pm - And the dome session finally begins where one Splitsvillan among - Shagun, Mehek, Gaurav, Handa and Simba - will say goodbye to the show.
The couples are ready for a tough night ahead. Shruti and Handa have the advantage of choosing one Splitsvillan each to be in the safe zone with them.
7:08 pm - And Shruti just slammed and rolled Anushka out of the block. She vented out all her anger in the wrestling round.
7:07 pm - Shruti is literally all over Anushka. She has locked her out in her web and pushing Anushka towards the outer line of the block.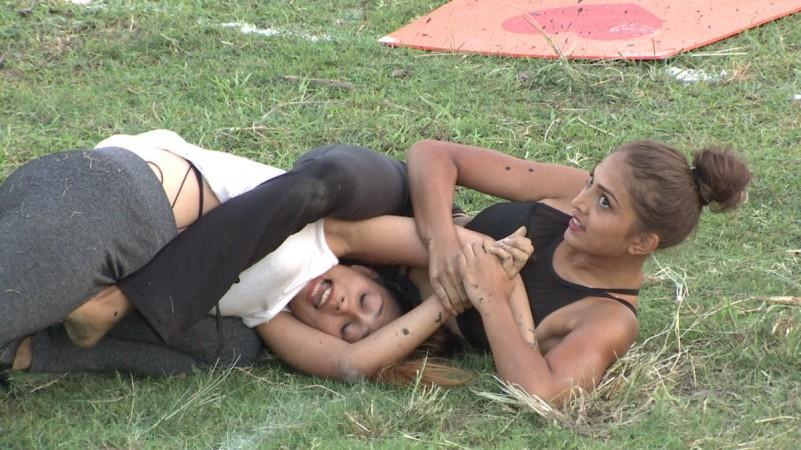 7:06 pm - Shruti shocked everyone with her strength ass she thrashed Anushka like a pro.
7:05 pm - After that mad fight between Dutta and Roshni, we now have Anushka vs. Shruti.
7:04 pm - Finally Roshni threw Dutta out and everyone ran towards her and Shruti lifted her into her arms.
7:03 pm - Dutta had almost thrown Roshni out of the block but Roshni somehow gets back into the game as she flips Dutta inside.
7:02 pm - Roshni has locked Dutta. Both girls seem exhausted.
7:01 pm - Tonight's episode has begun with a wrestling match between Roshni and Arushi Dutta.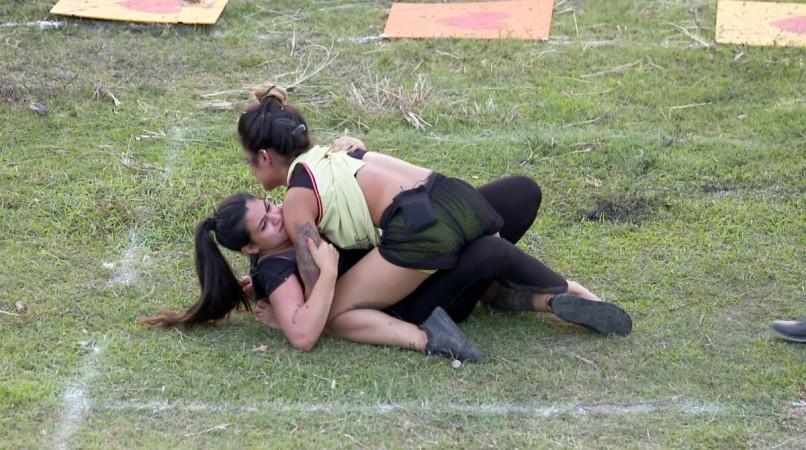 Among these 5 Splitsvillans - Shagun, Arushi Handa, Gaurav, Simba and Mehek - one of them will say goodbye to their journey in MTV Splitsvilla 11 in today's dome session.
Tonight on MTV Splitsvilla 11, the girls - Roshni, Arushi Dutta, Shruti and Anushka - will now fight it out and there couldn't be a better chance for them to take out their anger against each other after everything that had happened between them.
Meanwhile, Samyuktha and Anushka will get into a heated argument during the dome session. Samyukhta thinks that Anushka can never get into Roadies, let's see what Anushka has to say about this.
Stay tuned for MTV Splitsvilla 11 live updates at 7 pm today.