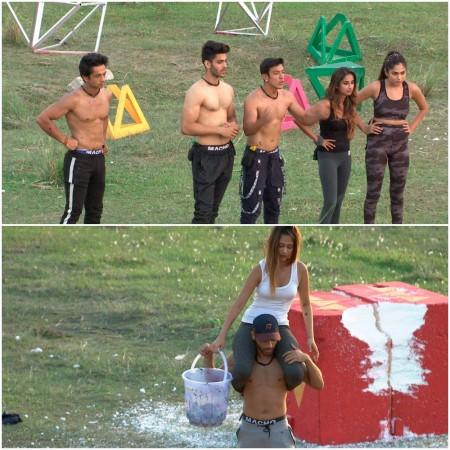 7:56 pm - The girls will now fight it out and there couldn't be a better chance for them to take out their anger against each other after everything that had happened between them.
7:54 pm - Kabir and Mehek finishes last. Now the teams have to push the other team member outside the small cubicle to get a power to save their favourite contestant.
7:40 pm - Fawad and Maera enter the cubicle. The game is between Gaurav and Kabir now. The game is getting intense as Kabeer just dissed Gaurav by calling him a cheap, manipulative, motherf*cker!
7:37 pm - OOPS! Mehak just called Gaurav, Shruti ka pilla.
7:27 pm - It's a diss game tonight on Splitsvilla XI It started with Gaurav accusing Kabeer of being too controlling of his women.
7:25 pm - Anshuman and Roshni finish first while Fawad and Arushi finish second. The game couldn't have been more interesting because it's Gaurav & Anushka vs. Kabeer & Mehak now.

7:21 pm - All teams are now trying to rub and disintegrate a huge cube of thermocol to remove the buckets inside them and get to the next level of the challenge. Splitsvillans are struggling a lot in this physical task.
7:20 pm - As Splitsvillans get ready for the Test Your Bond challenge, Splitsvillans gang up against Kabir and Anushka. And surprisingly, Anushka will have to gang up with Gaurav and Shruti to help them win the task to save herself from elimination. While Kabir is performing with Mehek, Anshuman and Roshni chose Handa whereas Fawad and Arushi chose Maera to perform with.
7:16 pm - Mehek asks Kabir whether he will perform with her and go in front of Oracle and Kabir replies with a yes. Sorry Anushka.
7:14 pm - Mehak made the most of this opportunity and said she wants to spend alone time with Kabeer as it gets really awkward for her to speak to him in front of Anushka.
7:12 pm - Mehek plays a game where all boys will have to answer whatever to their minds when she will give them a word.
7:11 pm - Now, Mehek has slipped into a skimpy bikini, all ready to go on a date with all boys.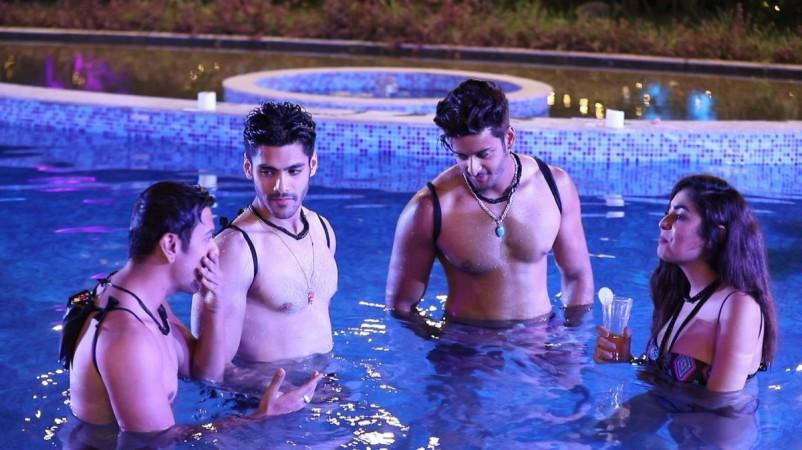 7:10 pm - After her date with Gaurav, Anushka tells Kabir what happened between them and Kabir couldn't help get jealous of Gaurav which was quite evident to all Splitsvillans.
7:09 pm - Anushka now teaches Gaurav how to dance and they are doing it really well. Sorry Kabir, it will burn you to the core.
7:08 pm - Gaurav tells Anushka that he feels certain kind of connection with her and Anushka seems to be quite interested in him.
7:07 pm - Gaurav now chose Anushka to spend some more time with and other four girls went straight to Kabir to widen the crack between him and Anushka. And it looks like they have succeeded.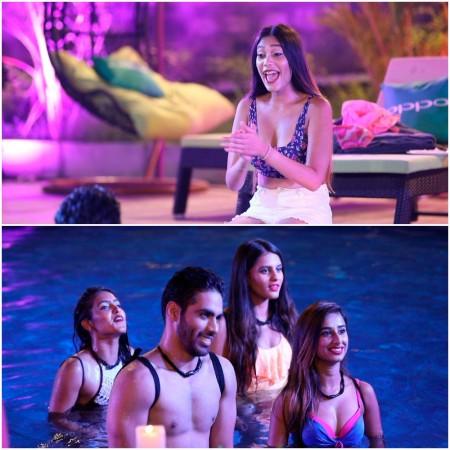 7:06 pm - Gaurav now plays a game called 'never have I ever' with all girls and a lot of secrets are getting unfolded.
Gaurav & Anushka both admitted that they have been super insecure in their past relationships. Shruti and Sam are trying to set them up since they have a lot in common.
7:05 pm - Amid everything, Anushka asks Gaurav what is love to him leaving all girls shocked as it was the same question that she had asked Kabir initially.
7:04 pm - As a return favour to Samyuktha and Shruti's sexy performance, Gaurav performs a rap and impresses them.
7:03 pm - And now Shruti starts performing in a bikini and lits the pool on fire with her hot dance. And Gaurav feels like the two girls have made his night.

7:02 pm - As Gaurav waits inside the pool for girls, Samyuktha performs a sensuous belly dance in a skimpy bikini to impress him. And Gaurav has left all jaw-drop.
7:01 pm - Splitsvillans get a scroll which says that new entrants Gaurav will go on a date with all girls whereas Mehek will go on a date with all boys.
MTV Splitsvilla 11 is getting more and more intense with each passing day. Ever since the Oracle has announced that Kabir and Anushka are no longer an ideal match on the show, things have changed a lot between the two and Splitsvillans couldn't help but notice it.
In tonight's episode, Gaurav, who went on a pool date with Anushka, says that he would like to know more about her further adding that thought initially his date was quite formal but it got romantic at the end of it. And Anushka didn't deny it either.
However, Kabir didn't look happy about it and started arguing with Gaurav that he is trying to steal Anushka from him. Shruti and Samyuktha too intervene in between the conservation and tell Rannvijay that things have changed between Kabir and Anushka.
Meanwhile, Mehek and Simba too had a great pool date and seem to be getting along with each other quite well. And Shruti and Samyuktha will be seen shaking a leg in bikinis.
Stay tuned for MTV Splitsvilla 11 live updates at 7 pm today.