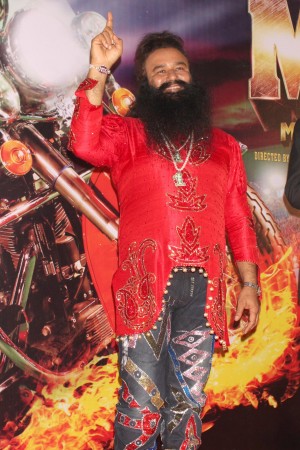 "MSG: The Messenger", which created several controversies, has finally released at theaters in India amid tight security.
The all-in-one Dera Sacha Sauda chief Gurmeet Ram Rahim Singh is the producer, director, lead actor, music director, editor and cinematographer of "MSG: The Messenger".
The film, which highlights social evils, has received rave reviews for being funny. According to critics, the film is nothing but a laugh riot.
Read the reviews below:
Mihir Fadnavis of Firstpost said: "Why the film faced any ban is a mystery. You can laugh with the movie, and more so at the movie. It's a win win. I reckon the censor board wanted to ban the movie for being too awesome. There is literally no better way to spend your valentines day than taking your date to watch the Love Charger."
Rukmini Chopra of BollywoodLife.com said: "If you want to give yourself a hearty laugh, go watch this film. Take in the glitter flashed by Ram Rahim Singh's colourful clothes and sing along with him as he gives hilarious performances on Roobaroo nights."
Sushmita Murthy of Deccan Chronicle said: "Not necessarily in a good way, but the film offers lots of chuckles and a healthy dose of laughter if you endorse the view that too much tragedy is comedy. In other words, it's so bad, it's good if you're one to pick the positives and watch a film just for kicks."
Rohit Khilani of India Today said: "Action scenes are hilarious and so are the dialogues. There are way too many songs which come back to back with all kinds of social messages in your face. The duration of this film is three hours and seventeen minutes but trust me there is never a dull moment."
Bollywood Hungama in its review said: "SG: THE MESSENGER is a film that can be watched once... purely for the dynamics and the histrionics of the endearing Gurmeet Ram Rahim Singh Ji Insan, whose onscreen antics seem to make the onscreen antics of Rajnikanth look like a child's play."