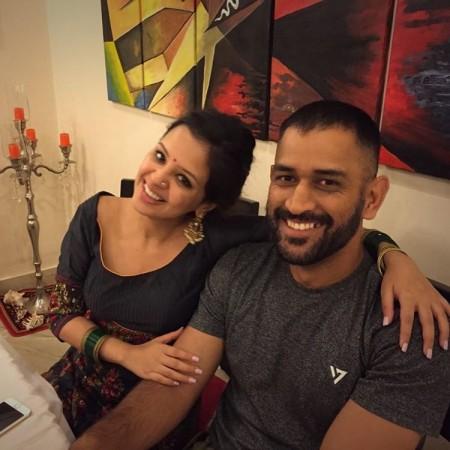 MS Dhoni's wife Sakshi Singh Rawat has won internet again with the cutest ever Valentine's Day message for hubby dear and also daughter Ziva Dhoni this Wednesday February 14.
Dhoni remained an integral part of the India cricket team as Virat Kohli's men won the six-match ODI series against South Africa on Tuesday in Port Elizabeth. At the same time, Sakshi was preparing her Valentine's Day message in the form of a photo collage for two of the most important people in her life.
Here's Sakshi's Valentine's Day 2018 message...
Mahendra Singh Dhoni and Sakshi Singh Rawat tied the knot on July 4, 2010 at the Vishranti Resort in Dehradun. The marriage did come as a massive good luck charm for Mahendra Singh Dhoni as he guided Team India to lift the ICC World Cup for the second time in the history in 2011.
Ziva, who has reached millions of hearts until this date, was born in February 2015.
MSD and wife Sakshi are due to celebrate their eighth marriage anniversary in some months from now. They spent their seventh wedding anniversary in the Caribbean islands as India took on West Indies in a five-match ODI series and one T20I.
While Kohli's men won the ODI series 3-1, West Indies, led by Carlos Brathwaite, won the one-off T20I match.
Both Dhoni and wife have frequently taken to Instagram to post several cute photos of their daughter Ziva over the last many months. Also, the little cutie crooning certain Malayalam songs has also broken the internet time and again!