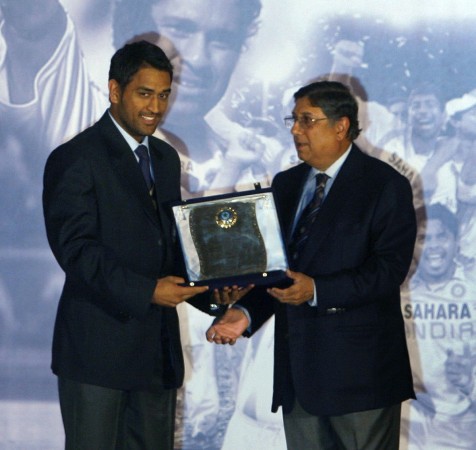 MS Dhoni has spoken about his relationship with former BCCI president N Srinivasan and what he told about Gurunath Meiyappan to a probe panel in IPL spot-fixing case.
It was a known fact that Dhoni enjoyed the full backing of Srinivasan when he was India and Chennai Super Kings (CSK) captain.
Dhoni was "Chennai boy" for many of cricket fans as he led CSK to IPL and Champions League T20 titles.
Also read: Has Dinesh Karthik sealed his middle order spot?
In a new book - "Democracy XI" by journalist Rajdeep Sardesai, both Dhoni and Srinivasan have spoken about their mutual respect for each other.
"I really don't care what people say, I found Srinivasan as someone who was always there to help cricketers," Dhoni said.
On Meiyappan, who was banned for life from cricket by a Supreme Court-appointed probe panel for his involvement in betting on IPL matches, Dhoni revealed that he never called him a "cricket enthusiast".
"Let me tell you, it is an absolute lie that I told a probe panel that Meiyappan was only a cricket enthusiast, all I said is he had nothing to do with the team's on-field cricketing decisions. I can't even pronounce the word 'enthusiast'," the World Cup winning captain was quoted as saying in the book.
CSK and Rajasthan Royals (RR) were suspended from IPL for two years (2016 and 2017) for corruption. They will be back next year.
Srinivasan, who was suspended as BCCI president, admitted that he vetoed and saved Dhoni from being sacked as India captain. Dhoni was also made vice-president of India Cements, a company owned by Srinivasan.
"Yes, it is true that I vetoed the decision to drop Dhoni as captain. How can you drop someone as captain within a year of his lifting the World Cup?," Srinivasan said.
"What you call favouritism I say is my respect for a top class cricketer's achievements," he defended the decision.
The Mohinder Amarnath-led selection panel, in 2012, had decided to remove Dhoni as skipper after poor performances of the team overseas but were stopped by the then BCCI president Srinivasan.
"The Board President did not approve the unanimous decision to replace Mahendra Singh Dhoni.
"We selected the team for the triangular series (in Australia), selected 17 players but we did not select the captain.
"The captain was selected by somebody else," Amarnath had said in December 2012.