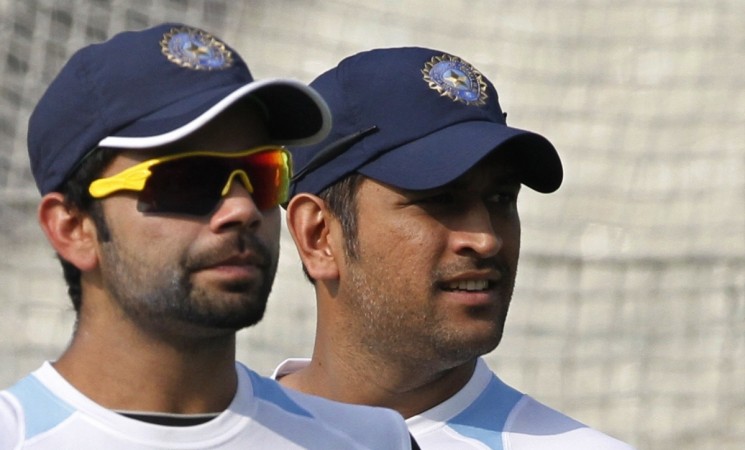 India Test cricket team captain Virat Kohli has revealed that he cherished playing under MS Dhoni, when the Ranchi-born wicketkeeper-batsman was the India skipper in the Test format of the game. Dhoni, whose life has been picturised in the Sushant Singh Rajput-starrer MS Dhoni: The Untold Story, relinquished his captaincy duties at the end of 2014, and also retired from Test cricket.
Kohli, who made his Test debut under Dhoni in 2011, took up the captain's armband of the India Test cricket team post Dhoni's retirement and made an instant mark. As a skipper, Kohli is yet to lose a Test at home. Besides that, under his captaincy, India has won nine out of 16 Tests and lost only two.
He also led the India team to reach the numero uno position in the ICC Test rankings on two occasions this year -- during the India tour of West Indies and the ongoing India vs New Zealand Test series.
The right-hand batsman, who has turned out to be a masterful guide for Team India, mentioned that Dhoni was the one who inspired him in taking right decisions at the right time and implement them -- a lesson the 27-year-old Delhi cricketer cannot forget very soon.
"When I was playing under MS Dhoni it was all about preparing for my own batting plans and I didn't have so much responsibility in terms of leading the team," Kohli was quoted by the official BCCI website. "I would talk to Dhoni, fellow players and to batsmen and bowlers about plans but the decision wasn't left on me. Decision making is very hard at times and it takes a lot of courage to do that. I learnt a lot from Dhoni seeing the way he made decisions.
"They might have been right or wrong but to convince yourself to make one decision and go forward with it; I think that is the essence of being a captain."
Dhoni, 35, who has been named the skipper of the India Dream Test XI team by Wisden and fan votes, was awarded the captain's duty in 2008. He led India to series wins in New Zealand and West Indies, the Border-Gavaskar Trophy in 2008, 2010 and 2013 as well as inspired his army to become number one in the ICC Test rankings for the first-time ever.