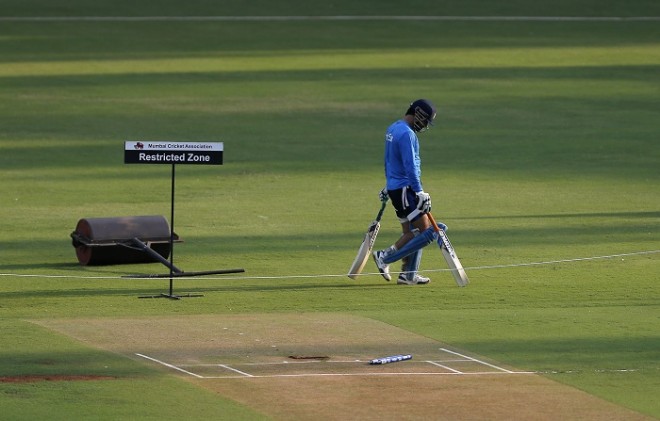 After almost every defeat in India colours, one of the questions invariably asked of MS Dhoni is "if he plans to retire from international cricket?" While Dhoni has made his feelings pretty clear over playing on in the limited-overs format, his naysayers, particularly with Virat Kohli proving to be an outstanding captain, are waiting for an opportunity to pounce and show that the India wicketkeeper's time is up.
Sourav Ganguly, a former player who has all the right in the world to express his opinions on Indian cricket, is of the "Dhoni still has a lot to give" camp, but the former captain also believes that the selectors have a decision to make as far as preparing for the 50-over World Cup in 2019 in England is concerned.
"Every cricket team in the world plans their future," Ganguly told India Today. "But my question to the selectors is, three-four years down the line, do they see MS Dhoni as captain of India?
"Dhoni has been fantastic in the way he has gone about his job as captain, but does he have the ability in next four years to see India into the World in 2019."
The answer as it stands is a maybe -- not a definite yes or a definite no. A lot more will be revealed after the ICC Champions Trophy, also in England, next year. If India, the defending champions, end up performing well under Dhoni, there might be a valid call for the 34-year-old, to continue till the 2019 World Cup.
India's recent results in the shorter formats of the game have been pretty good. They beat Australia in a T20 series, while losing the ODIs, Down Under, while India were dominant over Sri Lanka and in the Asia Cup T20. Dhoni's men might have gone out in the semifinals of the ICC World T20, but then some of India's (well, Virat Kohli's) performances in that tournament were quite outstanding as well, with Dhoni still proving to be the great captain that he is.
"Dhoni has been captain for nine years, which is a long period," Ganguly added. "Does he have it in him to go for another four years? He has already given up Test cricket and now plays only ODIs and T20s.
"I am not saying he needs to quit cricket, I feel he should continue to play in the shorter formats of the game. India still need him in the limited-overs cricket."
One of the things working in Dhoni's favour is that there is no obvious replacement behind the wickets. Parthiv Patel, Naman Ojha and Wriddhiman Saha do not exactly fill you with confidence, while the likes of Sanju Samson, who is not a pure wicketkeeper, still has a long way to go to show he is ready for international cricket.
Of course, you will only really know if you give them an opportunity, but with Dhoni showing those batting chops are still there or thereabouts, the India skipper is likely to stay at the helm of limited-overs cricket until the Champions Trophy at least. Unless, of course, he decides to announce his sudden retirement, much like he did in Australia when he called it a day in Test match cricket.