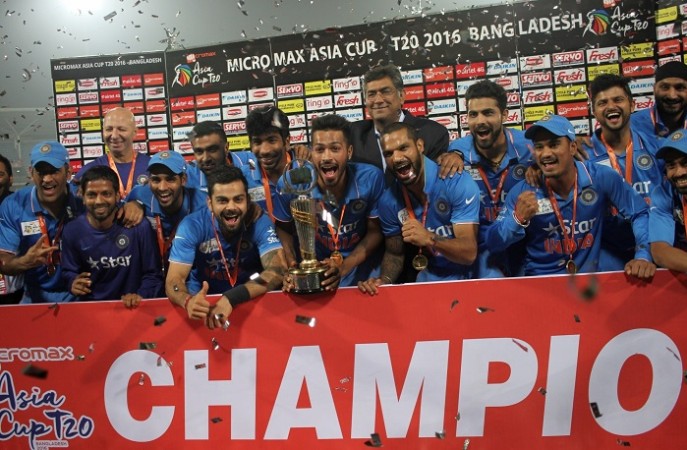 After beating Bangladesh by eight wickets and with it clinching a sixth Asia Cup title, the celebrations weren't exactly over the top from India. There was a bit of a jig from Virat Kohli and a few high fives in the dugout after MS Dhoni smashed a six to win India the match, but that was pretty much it.
It was nothing like Bangladesh celebrating their historic ODI series victory over India last year, something, that Ravi Shastri revealed, acted as motivation for the Men in Blue in this final.
The celebrations were muted, perhaps, because there is a much bigger trophy at stake now – the World T20 – or maybe it was because India were just expected to win. They were the best side in the Asia Cup by a long way, they were coming off series victories against Australia and Sri Lanka and they were up against a Bangladesh side shorn of their best bowler – Mustafizur Rahman – the man who, so famously, won the home team the series against India last year.
Dhoni was quite aware of the fact that India were just expected to waltz past Bangladesh in the final, knowing also, had they not, it would have been a much bigger deal than actually winning the title.
"India losing a final is a bigger headline than India winning a final," Dhoni was quoted as saying by ESPNCricinfo. "It's like putting in a lot at stake -- if you win then they say 'nothing really'; if you lose to Bangladesh, people say 'oh, you lost to Bangladesh!'
"You're supposed to win. It's like a game where a lot is at stake but when you win, you actually don't take anything forward."
That is not strictly true. Because what India take forward is that dominant feeling, having won every single one of their five matches in the Asia Cup, with every victory coming quite comprehensively. The only time India looked a little uncomfortable in the entire tournament was when Mohammad Amir bowled that spell, but even during those trying times, the players who had to bail them out, did.
Going into this ICC World T20 2016, India will be facing a bit of a similar lose-nothing-gained situation again. They are the overwhelming favourites to clinch the title, so if they do just that, most will say "Oh, you only did what everyone expected." However, if they end up struggling and throwing away a chance of clinching another World Cup at home, the critics will be out of the woodwork, baying for blood.
The way India are playing at the moment, though, the former scenario looks more likely.