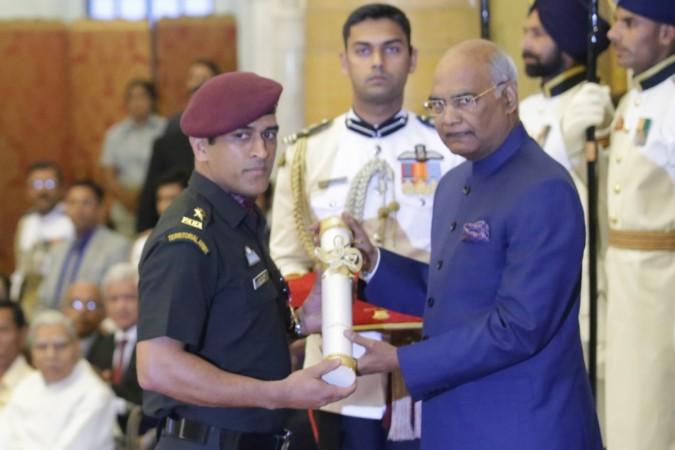 World Cup-winning former India captain MS Dhoni on Monday, April 2, received Padma Bhushan — the country's third highest civilian award from president Ramnath Kovind at Rashtrapati Bhavan in New Delhi.

Cueist Pankaj Advani also received the coveted award as the two athletes were seen greeting each other at the award ceremony. Dhoni's wife Sakshi was also present there.
Dhoni, an honorary lieutenant colonel, made sure he made the occasion more special by wearing the Territorial Army uniform during the award ceremony. The 36-year-old was visibly filled with pride as he marched past the dignitaries en route to collecting the award from the president after his name was announced.
Watch video: Dhoni receives Padma Bhushan from president Ramnath Kovind
The wicketkeeper-batsman was conferred with the honorary Lt colonel rank by the Territorial Army in 2011, months after he had led India to World Cup glory at home. He becomes the second Indian cricketer after 1983 World Cup-winning captain, Kapil Dev, to be conferred with Padma Bhushan.
The former India skipper, who retired from Tests in 2014, had received the Rajiv Gandhi Khel Ratna Award in 2007 and the Padma Shri, the fourth-highest civilian award, in 2009.
Notably, Dhoni received the Padma Bhushan exactly seven years after the historic day, on which he hit the winning six in the World Cup final against Sri Lanka at the Wankhede Stadium in Mumbai.
'Wonderful to see the pride with which Dhoni wore his Territorial Amry uniform'
Congratulatory messages started pouring in for lieutenant colonel Dhoni as Twitter users were awed by the cricketer's decision to wear the army uniform at Rashtrapati Bhavan.
"It was absolutely wonderful to see the pride with which @msdhoni wore his Territorial army uniform while receiving the well deserved #PadmaBhushan today, exactly 7 years after we won the 2011 World Cup. Heartiest congratulations!" former India batsman VVS Laxman wrote on Twitter.
Certainly, not many could have echoed the feelings of Dhoni's fans better.
From Team India coach Ravi Shastri to his former Chennai Super Kings teammate, R Ashwin, quite a few Indian cricketers heaped praise on Dhoni. IBTimes India has compiled a list of reactions. Check them out here.
Proper Legend. It's earned not demanded. God bless, Ravi #PadmaBhushan #MSDhoni pic.twitter.com/TJV0FcgnDc

— Ravi Shastri (@RaviShastriOfc) April 2, 2018
It was absolutely wonderful to see the pride with which @msdhoni wore his Territorial army uniform while receiving the well deserved #PadmaBhushan today, exactly 7 years after we won the 2011 World Cup. Heartiest congratulations ! pic.twitter.com/ROdMdM7aQk

— VVS Laxman (@VVSLaxman281) April 2, 2018
Congrats @msdhoni on your Padma Bhushan award. Fittingly given on the anniversary of our WC triumph. I am sure more such honors are on the way. #PadmaBhushan #MSDhoni

— Ashwin Ravichandran (@ashwinravi99) April 2, 2018
Congratulations Lieutenant Colonel MS Dhoni on receiving the Padma Bhushan, 7 years to the date since we won the World Cup ! pic.twitter.com/xjgjrHr4Ng

— Mohammad Kaif (@MohammadKaif) April 2, 2018
2nd April:

2011 - Captain #Dhoni plays the shot that remains etched in the minds of 1 billion people..

A day WE will never forget!

2018 - Lt. Colonel MS Dhoni, of 106 Para TA battalion & in uniform, marches with pride to receive his #PadmaBhushan..

A day HE will never forget! pic.twitter.com/PD7joGg5CP

— Suhail Chandhok (@suhailchandhok) April 2, 2018
April 2 - 2011, - He made a billion people roar with joy. #PadmaBhushan exactly seven years later on this very same day is a fitting tribute to the Man.

Padma Shri ?✔️
Rajiv Gandhi Khel Ratna ?✔️
Padma Bhushan ?✔️

Hats off #Thala @msdhoni ? We are proud of you pic.twitter.com/8gXMW21Ntc

— Lakshmi Narayanan (@lakshuakku) April 2, 2018
Congratulations @msdhoni for #PadmaBhushan. Always walks off in Style with awards, wins hearts. Respect Bhai. pic.twitter.com/OitzqY6NAv

— Sudhir Kumar Gautam (@Sudhir10dulkar) April 2, 2018
7 years back on this day he won us the World Cup.. 7 Years later on this day he has been given the Padma Bhushan and the man whose shirt reads No.7 has a million heart... You are the pride of our country !#MSDhoni | @msdhoni | #PadmaBhushanMSD pic.twitter.com/IQZPLnDk4y

— Nivin Pauly (@NivinOfficial) April 2, 2018
Candid Picture of Thala M.S.Dhoni & Sakshi!??#PadmaBhushan #Msdhoni pic.twitter.com/R2vIU5EPUR

— Whistle Podu Army - CSK Fan Club (@CSKFansOfficial) April 2, 2018