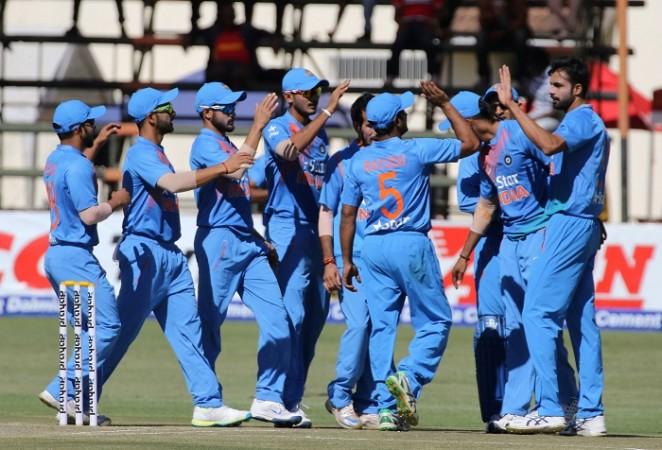 India clinched the ODI and the T20 series against Zimbabwe under the able leadership of MS Dhoni. Dhoni, who is one of India's most successful captains, did not have to do much with the bat, but he made sure the youngsters in the side held their nerves in the pressure sotuations, while also ensuring they stuck to their plans.
Dhoni, who equalled the record of Ricky Ponting after playing his 324th international match as the captain of India on Wednesday, was impressed with the way the young players in his side played against Zimbabwe.
"The ODI and T20 series were good exposure for the youngsters. Personally I feel we got more from the T20s than the ODIs," Dhoni was quoted as saying by PTI.
Dhoni stressed on the importance of having good fast bowlers in the team as well.
"In fast bowling department, we need a good pool of players. Now we can proudly say we have 10-12 players who can play for the country," Dhoni added.
India clinched a narrow win by just three runs over Zimbabwe in the third and final T20 of the series on Wednesday. Having thumped Zimbabwe in the ODIs prior to the T20 series, MS Dhoni & co. were expected to do it in a similar fashion in the shortest format of the game as well. But they were tested to the limit by Zimbabwe, with India eventually prevailing 2-1.
The only regret for Dhoni will be that his batsmen did not get enough of an opportunity, with Zimbabwe batting first in five of the six matches, and, more often than not, folding for a below par total. Dhoni, though, felt it was the right decision, since it gave his team the best chance to win.
"We did what was right to put in the opposition (in the ODIs). We decided to do what was the right way to play cricket," Dhoni said.
Click here to know about the Indian players ratings in the Zimbabwe tour.