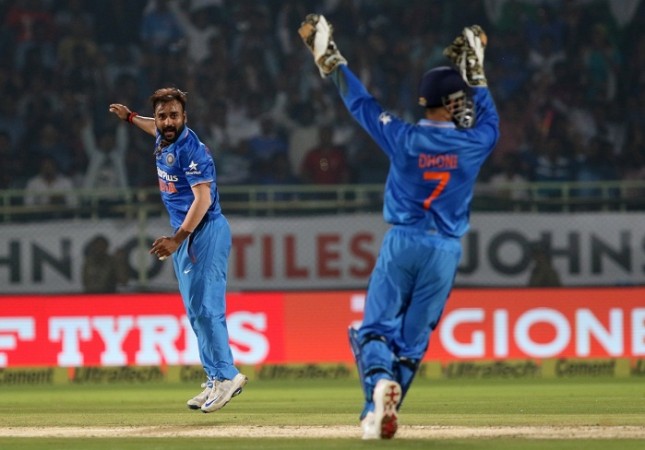 India batsmen like Virat Kohli and MS Dhoni have helped their team win a number of matches in the past, but it was the brilliant performance of the bowlers, which helped the Men in Blue crush New Zealand in fifth ODI by 190 runs in Vizag. Amit Mishra was on top of his game against New Zealand, picking up five wickets in his six overs to help India clinch the series as well.
MS Dhoni was pleased with the performance of his bowlers. The ODI captain heaped praised on Mishra and believed that his spin partner Axar Patel was a perfect foil for the leggie. They are contrasting bowlers with Mishra giving the ball some air, while Patel, who took two wickets, bowling at a quicker pace.
"It was one of the best performances by the bowlers. This was one game where the spinners bowled with a lot of assistance. Before this, when we bowled first, the wicket was always better to bat in the first half. It was an exceptional performance as there was a bit of dew. The pace at which the spinners bowled was perfect," PTI quoted Dhoni as saying.
"Mishra's beauty is he bowls slow, so as a keeper you have time to recover. And in tandem with Axar (Patel), who bowls flat and quick, it was very good."
India, who won the toss, decided to bat first and put up a decent total of 269 runs, with some good contribution from Rohit Sharma (70 runs), Virat Kohli (65) and Dhoni (41). India bowlers had to provide early breakthroughs, and they did not disappoint. Umesh Yadav dismissed dangerous batsmen Martin Guptill for a duck in the first over and wickets began to fall in regular intervals.
Kane Williamson was the top-scorer for New Zealand with 27 runs, but the brilliance of Patel led to his wicket as well. Five batsmen were dismissed for zero, and Mishra, with his incredible bowling, was responsible for three of those ducks. New Zealand could not really play the spin duo Mishra and Patel much, and were later dismissed for 79 runs only.
With it, India clinched the series as well. But, it was not a comfortbale series win for India where they were strongly tested by the visitors. India, to be fair, were not playing with their best squad, with the selectors giving players rest and some were injured, opening the doors for some fringe players. Dhoni was pleased with the experience, which some of the players received in the series.
"Glad that we could rest some key players, with some big Test series coming up. I feel the batsmen down the order like Kedar Jadhav, Axar Patel and Manish Pandey gained a lot of experience. It is difficult to get the complete product in international cricket so the new players should be given time to develop," Dhoni said.