The Indian cricket team has long benefitted from MS Dhoni's multi-dimensional skill set in more than one quantifiable department and leg-spinner Yuzvendra Chahal has opened up about the immense help the former captain provides in ways that may not often meet the eye.
Speaking to Hindustan Times ahead of the Australia tour, Chahal spoke how the senior players in the dressing room treat the youngsters like welcoming elder brothers.
"This Indian team is a family. The seniors have made sure that none of the young players feels overawed by the names in the dressing room. You can walk up to anybody and tell them what you feel about a certain situation. Be it Kohli bhai, Rohit bhai or MS bhai," Chahal told Hindustan Times in an interview.
Chahal went on to add that it was the good atmosphere created in the dressing room and off the pitch that has enabled the players to perform on the pitch.
The 28-year-old reserved special praise for Dhoni saying that the wicket-keeper has been a massive support in his personal life apart from being a guide standing behind the stumps.
"We have been guided by him from behind the stumps and that is there for everyone to see. But his role off the field is just as instrumental. He is the big brother who I can walk up to and speak to about my personal life. He is always there and willing to provide you with the best possible solution," Chahal was quoted as saying by Hindustan Times.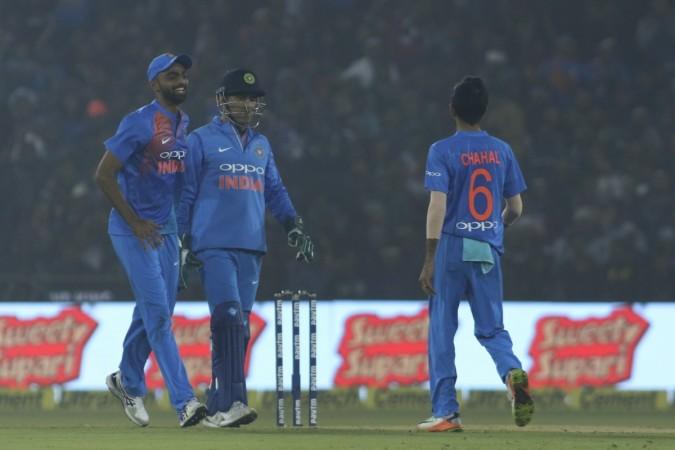 Talking about the other side of the usually sombre Dhoni, Chahal added, "When we are cracking a joke or pulling a leg, you will always find him in the thick of things. He isn't someone who will look to stay away from these moments because after all, these are the memories that shall stay with us forever."
Since debuting for India in 2016 under Dhoni himself, Chahal's white ball career has seen a meteoric rise which has seen him become the captain's favoured bowler in times of trouble. Chahal, on his part, attributes this rise to Dhoni.
In an exclusive interview with Timesofindia.com in October, Chahal had said, "Dhoni bhai has amazing observation skills. He can tell from behind the stumps that the bowler has a doubt or has questions by our body language alone. Whenever I am in doubt, he comes and solves the problem."
Chahal reminisced one such incident against Pakistan in the recently concluded Asia Cup where he was asked by stand-in captain Rohit Sharma to bowl in the powerplay.
"I looked at Dhoni bhai, he rushed towards me and asked me to bowl 'stump to stump'. I did just that and trapped Imam Ul Haq lbw."
Chahal, who has picked up 100 international wickets from 61 matches in the Indian blue will, along with Kuldeep Yadav, be India's biggest bowling rifle heading into the 2019 World Cup.