Vikaram Bhatt directed "Raaz 3", which was released on Friday, has garnered mixed reaction from the film critics.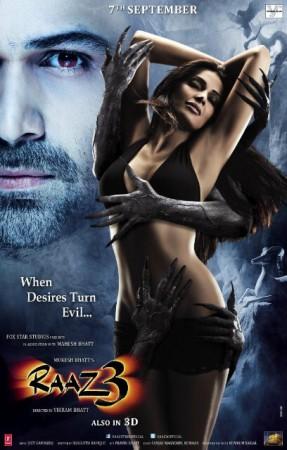 Being a horror-themed, "Raaz 3" filmmakers presented it in 3D format to make sure that the audiences have a horrifying time but many reviewers think it's not up to the mark. Some of the critics have mocked the performances of the actors and the dialogues, while some appreciated leading lady Bipasha Basu's performance.
Film reviews are largely depended on the theory of individual perspectives. One say good, another say bad and you can find another in the corner with all praises for a movie. Hence, we bring you the excerpts from the reviews by critics, to provide you a beforehand idea on what to expect from the latest horror flick by Bhatt's camp.
Read: 'Raaz 3' Movie Review: Horror Not New But Vikram Bhatt Delivers Fresh
Here's what film critics had to say about their 'horrifying' "Razz 3" experience in three dimensions:
Rajeev Masand of CNN IBN ironically finds the horror movie Razz 3 funny instead of being scary. "To be honest, "Raaz 3" has more laugh-out-loud moments than jump-in-your-seat jolts," he wrote.
"Filmed in 3D but barely justifying the technology, 'Raaz 3' is visually flat. Bhatt employs all the usual horror-movie tropes like creaking doors, fog-filled frames, and a macabre background score and yet the film is about as scary as a six-year-old wearing a Frankenstein mask," added Massand.
Commenting about the actors' performances, Masand wrote, "It doesn't help that the acting is laughable, particularly by the two ladies, while Emraan Hashmi just tries to keep a straight face through this nonsense. 'Raaz 3', unlike the director's last film, 'Dangerous Ishq', isn't even so bad that it makes you laugh... this is just dull, lazy filmmaking."
However, Taran Adarsh has a different take on the movie, which is quite evident with his three and half star rating for the film.
He appreciated the theme of the film saying, "Vikram Bhatt has mastered the art of sending a shudder down your vertebrae. The horror quotient in RAAZ 3 is sure to make you break into a cold sweat at times, but what really catches your attention is the human element. In fact, RAAZ 3 takes the negativity factor in women to an altogether different altitude. Writer Shagufta Rafique amalgamates vendetta, jealousy, conflict, drama and sexuality to create a chilling saga."
"One expects Vikram to tell a riveting story and that's what the franchise delivers. Also, unlike DANGEROUS ISHHQ, which received tremendous flak for its 3D, Vikram ensures that everything comes flying towards the audience in RAAZ 3," Adarsh of Bollywood Hungama wrote in his review.
"With this film, Vikram Bhatt raises the bar for horror films formulated on the home turf. If you are an enthusiast of supernatural thrillers/horror movies, RAAZ 3 should be on your list of 'things to do and watch' this weekend. Go, get ready to be spooked!," he added.
Kunal Guha of Yahoo mocked the movie: "The world is made of up of good and evil forces. Aatmas and Parmatmas. Those with chalk-smeared faces and those who merely appear as blinding lights and speak with an echo. But none of them can be immortal enough to live through a show of 'Raaz 3',"
"From being transported to a parallel universe to finding the 'chosen one' for the job, this film is quite like 'The Matrix'. Only difference, here you need both the pills. The first- to go down the Bhatt hole and the second for the ensuing headache," Guha added on hilarious note.
Vinayak Chakravorty of India Today calls the movie as "ditsy trip."
"Raaz 3 unfolds like a film that was written, directed and produced in fits of hallucination. Director Vikram Bhatt does well with a few genuine scary moments in the first half before giving up on all such efforts post interval. May be he hoped the 3D gimmick would do enough to make profits," wrote Chakravorty.
"Bipasha looks hot in her starring role but Esha reveals a few raw edges. Emraan looks bored (except when he has to kiss the girl). May be, he realised soon enough there is not much for him to do here," Chakravorty added.
Madhureeta Mukherjee reviewing Raaz 3 for Times of India, wrote, "the 3D effect isn't state-of-the-art, but a few innovative scenes impress. The music, however, is disappointing for a Bhatt film, with songs used as patches between insignificant scenes."
"For all those who want to move over from the Ramsay Bros... go watch 'Raaz 3' in 3D, at your own risk. But don't take it to your grave," added Mukherjee.
Shabana Ansari of DNA wrote, "Leggy lasses flaunting their toned bodies, a hero who expresses love and angst with the same passion, and lingering kisses leading to steamy romps - Raaz 3 has all the ingredients one has come to expect from movies made by the Bhatts. But this time, they have also thrown in a different realm where "souls are held captive and tortured". And this realm can only be accessed by a loved one from the place "where the dead and the living meet". Yes, it is that kind of film!"
"Worth a watch only if you like your thrills and chills served with a side dish of emotional drama and the promise of more terror along the way," she added.
Directed by Vikram Bhatt, "Raaz 3" features Emraan Hashmi, Bipasha Basu and Esha Gupta in the lead role.