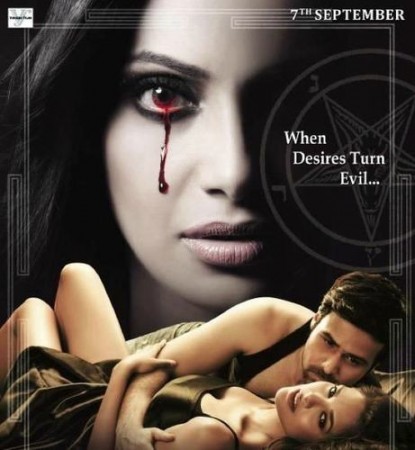 Many successful movies have sequels, but only few, however, bear fruit. One being the third instalment to Mahesh Bhatt's Raaz franchise, "Raaz 3" seemed to have struck the right chord in staying true to its evil cum thriller theme.
The film's core intention is simple - scare people - and film-makers have achieved it to some extent. Also, watching the movie in 3D adds more to the horror aspects of the film, evidently seen in the wide-eyed movie goers who were glued to their seats throughout the run.
The film plot is simple and not something unheard of. Just as before, the "Raaz" team has once again made serious efforts to scare audiences. The story deals with the same old conflict between good and evil, and as expected good triumphs over evil in the end.
Bipasha Basu does justice to her role as Shanaya Kejal, who is an ambitious and envious film actress eradicating anything or anyone who pose a threat to her already established stardom. Then, steps in Sanjana Dhanraj, a budding actress played by Esha Gupta, who gradually brings down Shanaya's star value.
Once dependant on the gods, Shanaya gives up all hopes on the almighty when the award for best actress goes to Sanjana. Having lost her faith, Shanaya turns to evil for help, thus marking the beginning of Sanjana's troubles.
Desperate to revive her diminishing career, Shanaya gets introduced to Tara Dutt, an evil agent played by Manish Choudhary. He helps Shanaya take down Sanjana and achieve her heart's desires.
Dutt gives Shanaya a bottle of black magic-laced water and instructs her to administer it to Sanjana slowly. By doing so, Dutt will have hold of Sanjana's soul and destroy her escalating stardom.
The evil agent asks Shanaya to appoint a loyalist to carry out the evil operation on her rival.
As expected, Shanaya zeroes in on boyfriend-director Aditya, played by Emraan Hashmi.
One may think why Emraan, being the hero of the film, decides to side with evil. Well, Shanaya's come-hither look and seduction skills drive Aditya to sign Sanjana into his next film. He then begins to give her small doses of the evil water every day.
Evil then manifests around Sanjana, who finds herself swirling in a world of nightmares, hallucinations, and scary clowns. Villain-turned-hero Aditya eventually falls in love with her and turns against his ex-beau, taking up a battle against evil to save Sanjana.
The task is simple - go into the spiritual world of dead souls and free Sanjana's captive soul under Dutt's control, which exorcists had earlier failed to break.
At the end, Aditya dives into the spiritual world to bring back his love and save her life. What waits for Aditya in the world of souls will unfold the climax.
Bipasha and Esha have done a commendable job on the acting front. Shanaya's character appears to be tailor-made for Bipasha, while Emraan has also played his given role convincingly.
The main stay of the film is the horror backdrop, and though such scenes were seen in plenty of scary flicks in the past, "Raaz 3" delivers it fresh, particularly in the scene where Sanjana gets terrorised by a clown in a forbidden studio.
The film-maker has made good use of distorted vocals in order to add more thrill to the horror unfolding ahead. Background scores are yet another bonus for the film.
On a concluding note, "Raaz 3" film-makers have tried to scare people and their efforts haven't gone in vain. No film is perfect, indeed there is a handful of logical follies in the film, but audiences can ignore it as long as they find the film scary.
"Raaz 3" may scare you depending upon your resistance to the horror themes.
Directed: Vikram Bhatt
Star Cast: Emraan Hashmi, Bipasha Basu, Esha Gupta